At Last! Megan Fox Shows Off Her Baby Bump!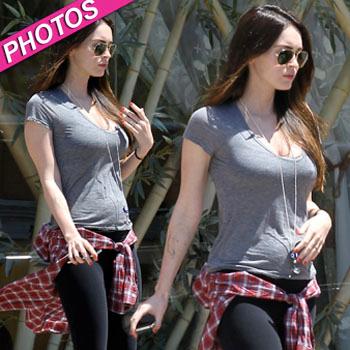 Article continues below advertisement
Megan stepped out after visiting a nail salon in Los Angeles with a clingy grey t-shirt that showed off her visible bump. And, just in case anyone was left in any doubt, she was also spotted cradling her stomach as she walked to her car.
"Obviously, Megan and Brian would be happy with a healthy baby of either gender, but they're beyond thrilled that Kassius is going to have a little sister," a source said about the happy couple.
The 26-year-old brunette beauty is in her second trimester, and is expecting her baby in the early fall.
"She'll be due at the very end of September or the first week in October," the source said about the Transformers star's due date. "Megan is attached to a movie called Swindle, but it's in rewrites and probably won't even begin filming until next year. So right now her plate is totally clean, and she can devote herself to her baby."