Kris Jenner's Desire For 'Fresh Balls' Sets Tone For Raunchy Tennis Game With Kim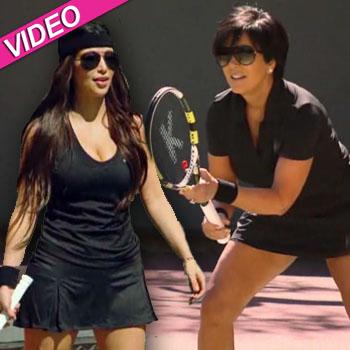 It sounded like a X-rated Wimbledon on Sunday's Keeping Up With the Kardashians, as Kim mocked mother Kris Jenner's loud grunts playing tennis, serving up one of the more amusing moments we've seen out of reality's royal family in their flagship show's seventh season.
Kris wanted to get a family tennis game going out of nostalgia, saying the sport was a "one of the things we did every single weekend" when she was with the late Robert Kardashian. She would play against Kim, who at one point was holding baby Mason, while Kourtney, Kylie and Kendall sat and watched.
Article continues below advertisement
As she and Kim shopped for swanky new tennis gear, Kris joked, "I think we need a can of balls because you always have to have fresh balls," to which Kim said, "I'm glad that your memory of balls is coming back to you!"
Kris responded, "Honey, anytime there's balls involved it's my kind of game!" setting the tone for what would be a snicker-filled, albeit sophomoric, tennis outing.
As for the game, Kris's loud grunts caught Kourtney's attention, as the oldest daughter wondered, "Is it me, or is my mom making these loud, crazy grunt noises when she hits the ball?"
(We'll let you be the judge.)
"I think it's pretty amazing, her sounds," Kim quipped, adding the entire family should be present to witness Kris's grunts firsthand. "Am I the only one that is tortured by this noise?"
Despite her humor earlier, Kris was none too amused with the family's ribbing at her (too) natural noises.
"You're making this miserable for me: you know what, I'm done!" the "Momager" yelled at her kids, adding "this was supposed to be a really fun day but my kids just wanted to make fun of me."
Article continues below advertisement