Kate Middleton Goes Camping With Inner City Kids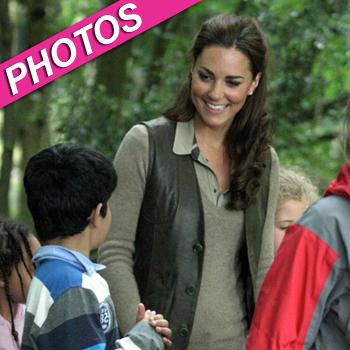 Saturday, she was in full regal mode, hanging out with Queen Elizabeth and thousands of royal subjects. On Sunday, Kate Middleton hung with a different crowd when she visited an Expanding Horizons program at the Widehorizons Margaret McMillan House in Kent, England.
The program is co-ordinated by ARK Schools, which gives children from inner-city backgrounds the opportunity to venture into the countryside and develop confidence and teamwork skills. ARK is supported by the charitable Foundation of Prince William and Prince Harry.
Article continues below advertisement
Knowing that she was going to be stomping around the woods with 28 eight and nine-year-olds, Kate dressed for the occasion.
She was turned out in jeans, Wellington boots and a waterproof vest.
Kate was game to explore the kids' tents, sit by the campfire and even try some of the food they prepared.
Some of the kids asked the Duchess about her job and she replied, "It's very busy and great fun but I am very well looked after."