Not Bad For A 64-Year-Old! Watch Grace Jones Amazing 4-Minute Hula Hoop Performance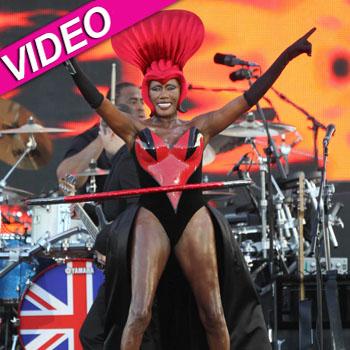 By Alexis Tereszcuk - RadarOnline.com Entertainment Editor
Grace Jones is 64 years old but she has the stamina of a 20-year-old!
The model/actress/singer gave a rousing performance of her hit song Slave to the Rhythm at Queen Elizabeth's Diamond Jubilee Concert in London Monday, hula hooping for the entire 4-minute performance and RadarOnline.com has video of her impressive feat.
Dressed in a black and red leather leotard and a humongous hat, Grace belted out the lyrics with her husky voice while hula hooping the whole time.
Article continues below advertisement
Queen Elizabeth and the entire royal family, including Kate Middleton and Prince William, watched and cheered along to Grace's amazing performance as she gyrated on the stage in high black heels showing off her toned athletic legs.
The crowd gave Grace a standing ovation after she kept the hula hoop going for the entire song.
The Queen's Diamond Jubilee is celebrating her 60 years on the throne and Grace celebrated still being an amazingly talented performer at 64!