Exclusive
Is Romance Brewing Between Bachelorette Emily Maynard & Host Chris Harrison?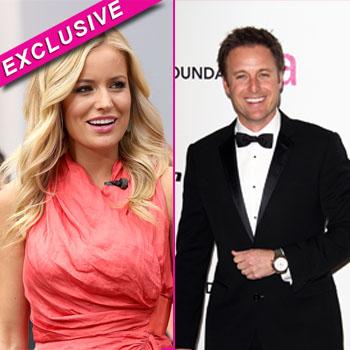 Bachelorette Emily Maynard had four sexy suitors left vying for her attention on the show, but the new issue of Star magazine is revealing that the real object of her affection is host Chris Harrison.
Insiders involved with the hit ABC reality show have long been whispering about how close the pair have become, and in fact, Star has learned that the duo are actually madly in love, and that it's gone on for a lot longer than most people realize!
Article continues below advertisement
The couple themselves backed up the romance rumors when Emily posted a photo on Twitter of with newly-single Harrison looking adorable together at the Dancing With the Stars finale. "I had so much fun with @chrisbharrison tonight @DancingABC," the 26-year old blonde gushed, and Chris, 40, quickly retweeted the photo, saying, "Great night with my friend."
While the revelation is new, the electric attraction has been causing sparks to fly between them since she was first a contestant on the reality dating show. "Chris always openly told staffers that Emily was the most beautiful woman he'd ever laid eyes on," said the insider.
Even former contestants were aware of the potential for romance. "From the beginning, I always said there was no way Emily was really going to end up with one of the guys because she really wanted to be with Chris, and it was obvious he wanted to be with her too," past winner Vienna Girardi exclusively told Star. "I vacationed with Chris and his family in St. Lucia and know him well. He was never with his wife. He's such a flirt," she revealed.
Article continues below advertisement
"I guarantee Emily and Chris will end up tother in the end," Vienna went on to predict. "If she gets engaged to another man, the show will probably spin it as a love triangle."
As RadarOnline.com previsouly reported, the longtime host and his spouse of 18 years, Gwen Jones, announced they were separating in May. They have two children together.
As for Emily and Brad, they broke up in July 2011 in a heartbreaking experience that she dubbed her "worst nightmare," and now she's looking for a new love as the Bachelorette.