Christian Bale Breaks Down At MTV Awards Over Heath Ledger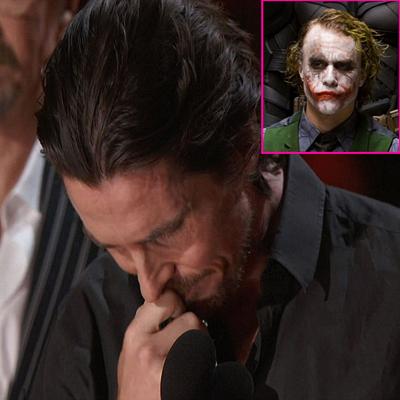 Christian Bale had yet another break down Sunday, but this time for good reason.
The Dark Knight Rises star became overwhelmed with emotion at the MTV Movie Awards when clips of Heath Ledger were shown playing The Joker in a video montage of Christopher Nolan's first two Batman films.
As he stood onstage with fellow costars Joseph Gordon-Levitt and Gary Oldman, Bale held back tears and said, "Wow, great to remember Heath at that moment... Wonderful to see Heath Ledger there."
Article continues below advertisement
Bale bowed his head as the audience enthusiastically screamed and cheered in honor of the late actor who died in 2008 at the young age of 28 because of a prescription drug overdose.
His performance in The Dark Knight would later go on to win Ledger a posthumous Academy Award for Best Supporting Actor.
Watch the video on RadarOnline.com
After a couple moments of silence, Bale, 38, composed himself to introduce Nolan who presented the trailer for the highly anticipated sequel, which hits theaters July 20.