Exclusive
Chef Robert Irvine Challenges Michelle Obama Critics: 'She Cares About Kids'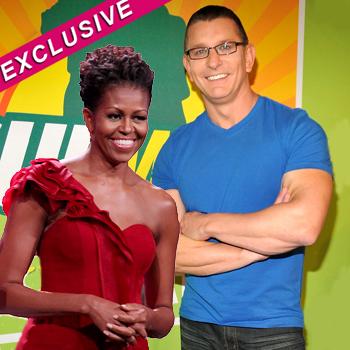 By Alexis Tereszcuk - Radar Entertainment Editor
Food Network celebrity chef Robert Irvine can turn a failing restaurant into a success in two days with just $10,000 but now he's taking on an even bigger challenge – trying to get America's kids healthy and he's working with the oft-criticized First Lady Michelle Obama to make that happen.
"In my opinion Michelle Obama is one of the most amazing people. As a human being she is so passionate about kids and well being. I like that," the Restaurant Impossible star exclusively told RadarOnline.com.
Article continues below advertisement
"I'm not into politics," he admitted. "I'm into helping children eat well. It's not political what she's doing. She's showing underprivileged children who don't have healthy stores anywhere near their neighborhood, that don't have the money to buy good food how to be healthy. Children are not political, kids need an option and I'm going to work with a lady named Michelle Obama who is a mother and she started being healthy before she was in the White House.
Robert told RadarOnline.com that he's not afraid to have the First Lady on the upcoming episode of Restaurant Impossible.
"People can bust my chops but I can see what I want, healthy children. She cares about kids. Haters will always be haters."
Robert said he is proud of the show, and especially his success rate. "We've done 45 restaurants and 41 are still going. We touch people's lives and teach people how to run their business correctly."
Article continues below advertisement
Chef Robert has taken on a new challenge – he's partnered with Subway for ADD-vocado Season and is going to eat avocado for 85 straight days and says he isn't worried about accomplishing his goal.
"It's going to be fun. Most of my life is on the road so I'll go into Subway and have a sub and add avocado on there. It can go in shakes, on sandwiches. I want people to know that it is not intimidating to eat well and exercise."