Catelynn Lowell's Own Mother Sold Fake Pregnancy Story!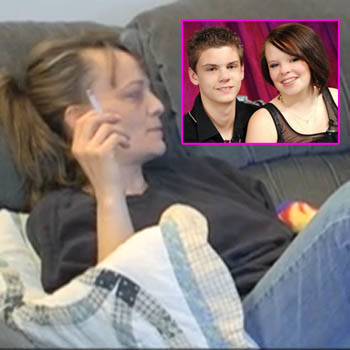 Article continues below advertisement
"I love my mom but this is frustrating," Catelynn told the magazine. "My mom lied. I think it's because she has no money...so she's trying to sell her daughter."
April apparently provided the magazine with a forged document from a doctor's office that said Catelynn was pregnant and pretended to be her daughter in a phone interview as well.
"Not only does the Teen Mom deny doing the interview, an independent voice analysis by a private investigator revealed 'with beyond a reasonable degree of professional certainty' that the voice of the interview subject "is the voice of the mother,'" the magazine reported.
Catelynn did admit though that despite her denials she does know Jamie Pyrzewski, just by a different name.
April is married to Butch Baltierra, the father of Catelynn's fiancé Tyler Baltierra, and Butch is in jail for a probation violation after a domestic abuse conviction.
"Catelynn was fully aware of this story," April said about her daughter, who is denying any involvement in the hoax. "She knew all about this."
Article continues below advertisement
Catelynn and her mother have had a tumultuous relationship, and April even called her daughter a "condescending bitch," on TV.
However, Catelynn's fiancé had harsh words for his stepmother/mother-in-law-to-be.
"We feel violated," Tyler said. "I'm shocked that she would go to this length. It just crosses the line.
RELATED STORIES:
Teen Mom Chelsea Houska Wants To Pose For Playboy, Dad Says No Way!