Exclusive
Casey Anthony TV Interview Sparks New Legal Battle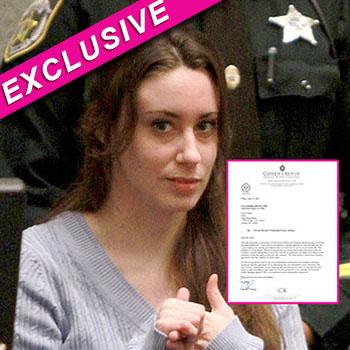 Every situation involving Casey Anthony seems to create a legal firestorm, and her recent interview with CNN's Piers Morgan is no exception.
Morgan had an off-camera interview with Anthony earlier this week, drawing a massive outpouring of emotional reactions on the Web. That interview had now generated a letter from a lawyer warning the network and Morgan to back off, RadarOnline.com has learned exclusively.
Article continues below advertisement
Attorney Spencer Kuvin of the Florida law firm Cohen & Kuvin wrote that he represents an entity that reached an agreement to exclusively interview the notorious "Tot Mom," who was acquitted of murdering her daughter Caylee.
RadarOnline.com has obtained the letter, in which Kuvin writes: "my clients held lengthy discussions with Ms. Anthony's counsel dating back to July 2011 wherein an agreement was made with respect to the exclusive worldwide rights to interview Ms. Anthony. My client believes that he has a binding agreement with Ms. Anthony for these rights.
EXCLUSIVE DOCUMENT: Read the Casey Anthony Letter Here
"If CNN, its producer, talent or any of its independent contractors have somehow tortiously interfered with this agreement we are demanding that you immediately cease and desist with our actions."
The lawyer also demands that CNN "immediately turn over any and all audio, video or other recordings of any interviews in your possession."
RadarOnline.com has learned exclusively that Kuvin's client, a group called Private Elevator Productions, does NOT have a written agreement with Anthony. One source told us that the group is claiming it has a binding oral contract, an assertion that was earlier rejected by Anthony's attorney Jose Baez. The letter does not state if the group intends to pay Anthony for an interview although RadarOnline.com has learned that payment in one form or another is part of the proposed deal.
Article continues below advertisement
In the interview with Morgan, which was conducted by phone, Anthony denied killing her daughter and acknowledged how she is perceived by the public. """Obviously, I didn't kill my daughter. The public perception of me is bad, absolutely horrible. It's horrible. It looks absolutely horrible, and I'm ashamed in many ways of the person that I was," she said.
She also said she was not a "party girl"and according to Morgan, adding: "There's no one I love more than my daughter... she's my greatest accomplishment."
CNN did not pay for its Casey Anthony interview.
Casey is facing a civil suit from Zenaida Gonzalzez, a woman with the same name as a fictitious character Casey claimed kidnapped Caylee.
RadarOnline.com has learned exclusively that Casey has kept detailed journals and they may end up as evidence in that civil case, where she will be deposed.
RELATED STORIES:
Lawyer Suing Casey Anthony: She Is Incapable Of Telling the Truth