THE WEEK IN PHOTOS: Mile-Long May! Legs Aplenty Coast-To-Coast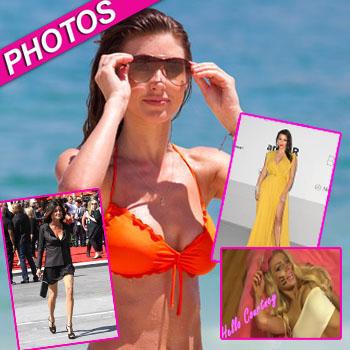 Janice Dickinson arrives to the set of American Idol in Los Angeles, showing off her wrinkled legs in a short dress.
Kim Kardashian makes an Angelina-esque leggy entrance to AmfAR's Cinema Against Aids gala 2012 during the 65th annual Cannes Film Festival.
A leggy Miley Cyrus arrives at the Billboard 2012 Music Awards held at the MGM Grand Garden Arena in Las Vegas.
Take a peek into the mind of Courtney Stodden, as she plays "Kitty Cat."
Article continues below advertisement
Brandi Glanville of The Real Housewives of Beverly Hills spends the day tanning in the Los Angeles sun.
Tila Tequila shows off her gaunt frame in these shots.
Brad Pitt attends the Killing Me Softly press conference at the 2012 Cannes Film Festival.
Reality star Audrina Patridge looks stunning in a orange bikini as she chills out on the beach at the ME Cabo Hotel in Mexico.
Bikini-clad Michelle Rodriguez was photographed diving into the warm Mediterranean waters in Antibes.