Shocking Video Of Show Horses Being Kicked And Electrocuted Released By Humane Society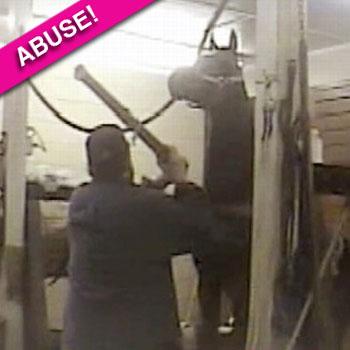 The fallout has already begun after sickening footage of show horses being beaten, kicked and poked with electric prods was released.
Soft drinks giant PepsiCo has withdrawn its sponsorship of this summer's annual Tennessee Walking Horse National Celebration after The Humane Society of the United States posted the shocking video on its website earlier this week.
A HSUS undercover investigator secretly taped the footage over several weeks in 2011 at the Whittier Stables in Collierville, TN.
Article continues below advertisement
Tennessee Walking Horses are famed for their "big lick" – the exaggerated lift of their front legs. In the video workers at are shown using a variety of illegal techniques to force the horses to lift their legs as high as possible.
The abuse is known as "soring." It includes adding caustic chemicals to the horses' front legs, wrapping them in plastic and leaving it overnight until – according to the investigator – they are "literally cooked into their skin."
EXCLUSIVE DOCUMENTS: Read The Autopsy Results For The Horses Who Died On The Luck Set
The horses are shown wearing heavy chains around their ankles which – when added to already tender skin – allegedly makes them lift their feet higher.
Famed trainer Jackie McConnell is shown throughout the video in which collapsed horses are heard crying as they are forcibly dragged across the stable.
The HSUS handed the film over to law enforcement and McConnell is expected to plead guilty to conspiracy to violate The Horse Protection Act.
Article continues below advertisement
PETA Wants To Turn OJ Simpson's House Into A 'Meat Is Murder' Museum