Desperate For Attention? Scandal Ridden 'Tanning Mom' Flashes The Cameras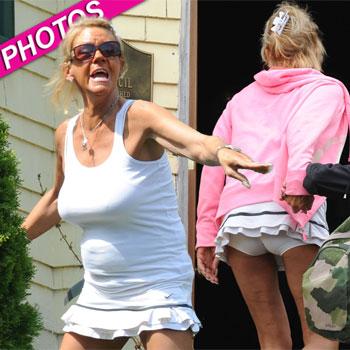 She may prefer artificial sun, but it looks like Patricia Krentcil is sticking to natural sunlight after being arrested for burning her 5-year-old daughter in a tanning bed!
The 44-year-old Nutley, New Jersey mother, who was released on $25,000 bail Wednesday on a second-degree child endangerment charge, spent Friday afternoon in her front yard, catching some rays while watering her plants in a super skimpy white outfit that didn't quite cover her backside – and RadarOnline.com has the photos.
Article continues below advertisement
Krentcil, who spent the morning shopping at her local Target store, let it all hang out by going braless under a tight tank top and wearing an incredibly short skirt that exposed her matching white panties, while she tended to her shrubbery.
Krentcil was arrested on April 24 after her daughter's school noticed that she had several burns on her body and contacted local authorities.
RELATED STORIES:
Snooki Slams Mom Who Allegedly Burned Daughter On Tanning Bed