Celebrity Tanning Disasters! 10 Stars Who Went Too Far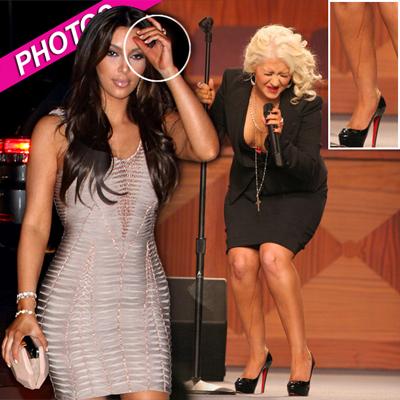 At least some of Hollywood's hottest stars are saving their skin from the sun and turning to self-tanner to get their glow, but that doesn't mean they always end up looking sun-kissed and sensational!
From sinful streaks to missed body parts, these big celebrities have experienced embarrassment on the red carpet and on the streets, when their self-tanning method has gone awry! RadarOnline.com has photos of 10 really bad celebrity self-tanning disasters.
Article continues below advertisement
Kim Kardashian is considered one of the glammest gals of reality television, always dressing to the nines and making sure her face is made up to perfection, but apparently she isn't keeping up with the latest spray tanning methods! Kim has stepped out on more than one occasion with sun streaked and dirty looking hands.
Lindsay Lohan is a multiple offender, especially when it comes to self-tanner! On different occasions in the spray tan bed, she has missed her ankles, her armpits and even hit the red carpet with a sun-streaked face!
Self-tanner isn't just for the ladies! Hollywood hunk Bradley Cooper misapplied his face tanner, forgetting to apply it to his bearded area, while Donald Trump embarrassingly missed his hairline.
And Christina Aguilera loves to show some leg while on the stage, but she probably should check out the results of her spray tan before she decides to rock a short dress during a performance.
To see all the really bad celebrity self-tanning disasters, click here!