Stanley Cup Sexy! Hollywood Bikini Babes Who've Romanced Hockey Players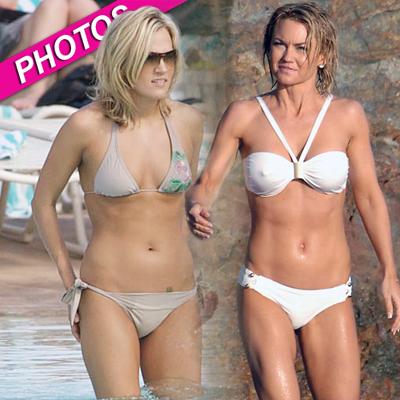 RadarOnline.com Features Editor
Professional football players and basketball studs aren't the only professional athletes scoring hot and famous chicks!
It must be hard keeping the ice frozen when these super sexy Hollywood stars are in the stands, steaming up the hockey arena with their hot bodies! In honor of the Stanley Cup Playoffs, RadarOnline.com has photos of the ten most sizzling celebrity bikini babes who have romanced NHL players.
Article continues below advertisement
Los Angeles Kings hottie Jarret Stoll, who will be fighting for the Stanley Cup on Wednesday night, loves to pucker up to Hollywood stars. The 29-year-old star center has romanced everyone from Katie Cassidy to former fiancée Rachel Hunter.
Carrie Underwood and Hilary Duff both scored big with hockey stars. While country cutie Underwood is married to Nashville Predators hunk Mike Fisher, Duff recently gave birth to her first child with former Pittsburgh Penguins star Mike Comrie.
Sean Avery is no stranger to the red carpet! The New York Rangers hunk has accompanied former flames Rachel Hunter and Elisha Cuthbert to the swankiest of soirees.
And when it comes to bikini blondes, Hockey legend Sergei Federov can't seem to stay away. The Russian stud has romanced both Tara Reid and Anna Kournikova.
To see all the hottest bikini babes who have been linked to hockey players, click here.