Exclusive
New Book Offers Celebs Quickie Workouts In Bed!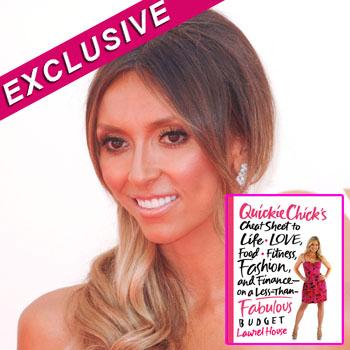 By Debbie Emery - RadarOnline.com Reporter
Finding time to work out is a challenge for everyone, especially busy Hollywood celebs who are desperately juggling work, family and fame, but a new book offers a fun and fabulous way to burn calories – in bed!
"These moves are great for celebs on-the-go who travel a lot and need a hotel room workout, but don't want to touch the dirty floor," revealed author Laurel House, whose book QuickieChicks Cheat Sheet to Life, Love, Fitness, Food, Fashion, & Finance... on a Less than Fabulous Budget hit shelves on Tuesday.
Article continues below advertisement
"They aren't intimidating, you can easily slip them into your day and they cater to the every woman," the lifestyle expert told RadarOnline.com in an exclusive interview about her sexy twist on breaking a sweat without leaving the comfort of your bed.
Celebrity fans of the new workout include E! News host Giuliana Rancic, who enjoyed a "quickie" with Laurel on Monday's segment of the show.
"All right ladies, looking for something that you can do in bed that helps you burn calories, tighten your muscles, work up a nice sweat?" asked Giuliana.
"I know what you're thinking, and it's true. There is absolutely nothing hotter than elevated single side lifts!" she joked. "OK, get your mind out of the gutter, it's not your typical quickie in bed, but you'll break a sweat just the same," the cancer survivor and mom-to-be told viewers.
"Every move is effective, efficient, fun, tongue-in-cheek, life enhancing, and the ultimate lazy chick's workout because you are doing it before you even start your day, or at the end of the night when you realize that you "forgot" to work out and want to get a quickie post-dinner calorie burn in," revealed House, whose videos on YouTube have more than seven million viewers.
Article continues below advertisement
Along with maxing out the calorie blast with fabulous upper body cardio workouts (no standing required) or Zen-inducing "Yogic Valium" stretch sessions, 34-year-old Los Angeles native Laurel also offers essential tips on how to improve your sex life and amp up your libido.
Dubbed "Little Miss Fix-It" by Shape magazine, House's new feminine-oriented brand is the essential guide to everything from whipping up fast healthy meals and wrapping that guy around your finger, to carving out a killer career and making the right impression on Facebook.
Bollywood Actress Slammed For Not Losing Baby Weight 6 Months After Giving Birth
Tyra Banks On The Horrors Of Modeling: 'I Was Told I Was Too Fat For The Runway'