Pregnant Reese Witherspoon Hits The Tennis Court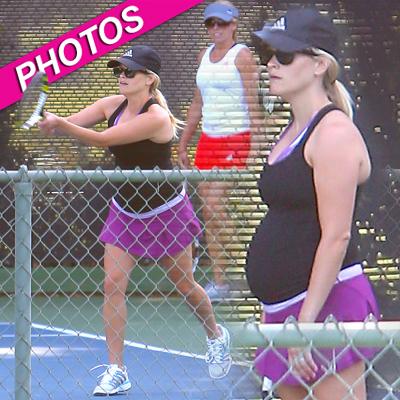 Reese Witherspoon knows how to cause a racket.
The Oscar winning star -- pregnant with her first child with new hubby Jim Toth -- hit the tennis courts Wednesday at the Brentwood Country Club near her home in Los Angeles.
Unlike Jessica Simpson who shocking gained a lot of weight during her pregnancy, the 36-year-old Legally Blonde actress appears determined to stay in good shape during her pregnancy; she's been repeatedly photographed jogging and hiking in the past few weeks.
Article continues below advertisement
This will actually be the third child for the 36-year-old actress; she also has two children with ex-husband Ryan Philippe.
Of course, there's nothing like a little exercise to work off stress.
As RadarOnline.com has previously reported, on May 11, Witherspoon and her parents, Mary Elizabeth "Betty" Witherspoon and Dr. John Witherspoon went to a Tennessee courtroom for an emergency hearing on her father's bizarre bigamy case.
In court papers filed days before the hearing, Mary accused her husband of bigamy and asked that his January 13 marriage to Tricianne Taylor be annulled. Mary says John suffers from chronic alcoholism, is a hoarder and is in the early stages of dementia and told her he didn't remember marrying Taylor.
Witherspoon's parents split in 1996, but they never officially divorced.
RELATED STORIES:
Reese Witherspoon 'So Excited To Meet' Kate Middleton: 'Y'all, She's A Princess!'