Former Miss USA Rima Fakih Dodges Jail In DUI Case, Claims She 'Doesn't Have A Drinking Problem'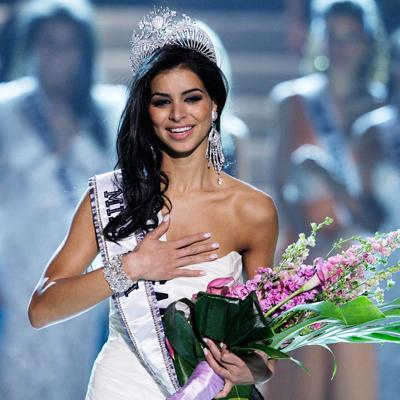 The former Miss USA who was caught with an open bottle of bubbly in her car while weaving in and out of traffic at 60 mph has escaped jail time and instead has been sentenced to six months probation.
After pleading no contest to driving while impaired last month, Rima Fakih appeared in a Highland Park, Michigan courtroom on Wednesday where Judge William McConico ordered her to report for probation immediately, reported the Detroit Free Press. She will also carry out 20 hours of community service and pay $600 in fines and costs.
Article continues below advertisement
Despite being twice the legal limit when she was arrested on December 3, the 26-year-old beauty, who became the first Arab-American to be crowned Miss USA in 2010, claimed that she does not have a drinking problem.
"My first drink was at a graduation party when I was 23 years old. I was not growing up drinking," she said, adding: "My intention was not to drive drunk and put a lot of people in danger.
"It was very humbling and I had a lot of people by my side — family and friends — and you learn who's there for you."
As part of her community service sentence Fakih will speak to teens at Michigan's Highland Park High School about the dangers of drunk driving.
"This helped me from making a bigger mistake," she explained. "I could have done something the same or similar which happens when you do stuff like that and never get caught."
Article continues below advertisement
As RadarOnline.com previously reported, the brunette beauty queen claimed to be oblivious that the bottle of Moet & Chandon was rolling around behind the driver's seat as she sped through the Detroit suburb in a black 2011 Jaguar XJR and told police she was driving a friend's car.
Two breath tests showed a 0.19 percent and a 0.20 percent blood-alcohol level, which is twice the legal limit of 0.8 in Michigan.