LeAnn Rimes Kicks Off Tour Days After Mouth Surgery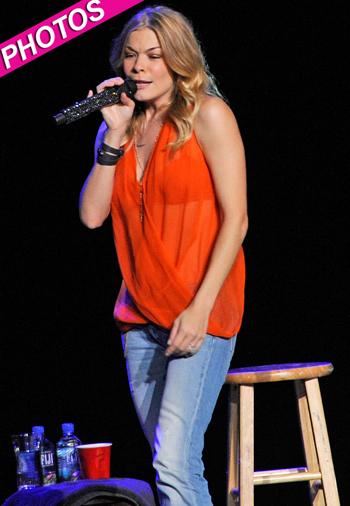 LeAnn Rimes was in a lot of pain when she took to the stage at a concert in New Jersey on Friday night. In fact the country crooner has described the past few days as being "one of the most painful weeks" of her life.
Rimes, 29, kicked off her tour days after having mouth surgery. Throughout the week the singer has tweeted about being in pain after going to the dentist.
On Tuesday she posted a photo of a cup of frozen yoghurt onto her Twitter page, with the caption: "The best after mouth surgery…yet again! :) yummy yoghurt though = happy girlie."
Article continues below advertisement
On Wednesday Mrs. Eddie Cibrian kept her fans up-to-date, by writing: "Stitches and a drain in my mouth and 2 lil numb mouths in our house from fillings…we're having ice cream."
As the week progressed, the pain was obviously getting to her. The night before the start of her tour, she wrote: "Swollen face, tons of pain, but I'm powering through. Hopefully, a good night's sleep will take away some of the chipmunk look:)."
Rimes didn't have any intention of letting her audience down though. On Friday she was still enthusiastic. "OK, I'm up…I'm moving…swelling is less, pain is still there. I'm in and on my way to NJ!!! Can't wait to see my fans tonight!"
The singer must have been pleased with her performance because after the concert she took to her Twitter page again, gushing: "Wonderful show tonight in NJ, even in pain. Lil swollen, but OK."