Eli Manning Scores Big On Saturday Night Live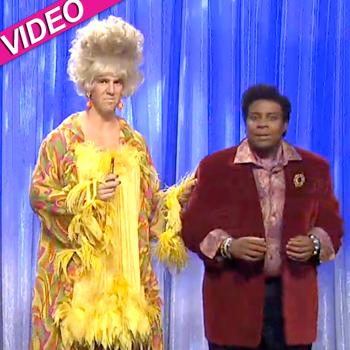 If Eli Manning has as good a season with the New York Giants that he had as host of Saturday Night Live, his team is headed to the Super Bowl.
The superstar quarterback was amazingly good in sketch after sketch, straight through from the monologue.
One of our favorites had Peyton Manning's little brother -- there was an entire sketch about the plight of younger siblings -- as Miss Chicken Fried Steak in a Miss Drag World competition.
Article continues below advertisement
Eli didn't take kindly to finishing third out of three competitors, even when the pageant host, played by SNL's fabulous Kenan Thompson, encouraged him to "have some dignity."
Miss Chicken Fried Steaks was in mascara-blurring tears but it will leave you laughing.
You can watch it here.
RELATED STORIES:
Taylor Swift & Tim Tebow: Hot Couple Alert?
Who Is Donald Driver? Seven Things You Didn't Know About The DWTS Competitor