Exclusive
Bella Heathcote's Stylist Reveals Hair Secrets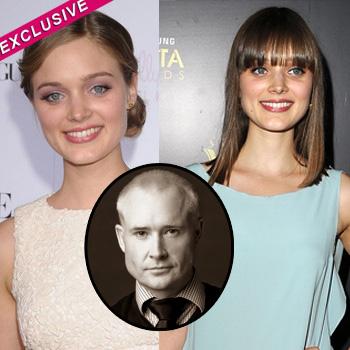 By Leah Ornstein - RadarOnline.com Features Editor
Dark Shadows star Bella Heathcote is gearing up for international stardom – but not without the help of one of Hollywood's hottest hairdressers!
The Australian actress, who will certainly become an international nameafter her highly-hyped movie hits the big screen on Friday, has been getting her tresses tended to for several years by celebrity stylist Sean James, who spoke exclusively to RadarOnline.com about her "ahead of the curve" look.
Article continues below advertisement
"Doing Bella Heathcote's hair, for the past two years really has been an exciting journey, from getting her ready for award shows, movie premieres and press junkets," says James, who has been most recently styling Heathcote for her Dark Shadows press junkets.
"Bella's sense of style is natural with an edgy twist," he explains.
"Her clear alabaster skin can be attributed to her healthy food choices. Bella really takes good care of her skin and with great advice from make up artist Kara Yoshimoto she stays on track."
James, a fellow Aussie, explains how Bella's hair has evolved since the duo started working together.
"When Bella first came to me, her hair was basically a long, layered cut. We added a little texture with the Solano Smooth Curl 450 Spring Curling Iron and the Super Solano 3500 Lite Hair Dryer, using a spritz of Phyto Volume, to add volume to her roots."
"For her acceptance as Australian actress of the year we braided the front of her hair – yes, way before the Katniss look – once again staying ahead of the curve."
Article continues below advertisement
"We decided it was time for a new look for her role in the movie In Time, so we cut a super modern sharp fringe, or as some would say BANGS, which framed her beautiful doll like eyes. My inspiration was early Michelle Pfeiffer, who coincidentally went on to be her costar in Dark Shadows!"
Want to steal Bella's style? If you can't get in to see Sean James at the swanky Fred Segal Salon in Santa Monica, then he has a few tips on how to guide your stylist in the right direction.
"Ask your stylist to do the sharp fringe. The trick is to not cut bangs straight across. They need to have a slight curve and be disconnected from the sides. The perimeter should also be cut very blunt, adding a slight triangular shape and can be styled in many ways."
As far as products are concerned, James says, the more natural the better!
"Phyto and Number 4 (which is vegan as well as sulphate, sodium and chloride-free) are my favorite product lines. I especially love Number 4 Mighty Hairspray."