Carrie Underwood: 'It Would Be Very Hard To Write A Country Song About My Louboutins'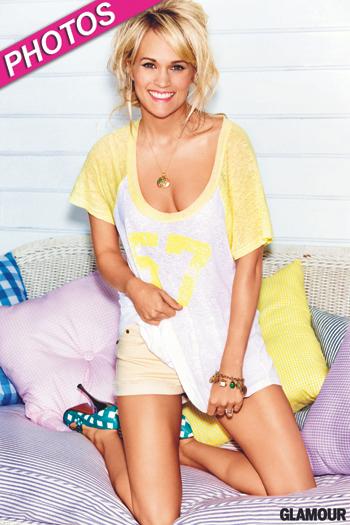 RadarOnline.com Features Editor
Carrie Underwood is back in the spotlight!
After taking a year off, the American Idol winner is releasing a new album on May 1st and will surely be a busy bee promoting it this summer. The beautiful blonde is featured on the June 2012 cover of Glamour – and RadarOnline.com has the photos from her summery style shoot as well as details about her interview with the fashion magazine.
Article continues below advertisement
Wearing a peach Rochas shirtdress, a Cosabella bustier and a Camilla Dietz Bergeron on the 'Summer Fun & Fashion Issue' cover, the 29-year-old Oklahoma native dishes on her down-to-earth approach to life.
When asked if it would be possible to write a great country song about being rich and famous, the southern beauty revealed that she and her husband, NHL star Mike Fisher, don't really care about material things.
"With no irony? I don't think so, because country music is for real people. I think it would be very hard to write about my Louboutins. Do you know what I mean? My giant house, it's not relatable. But my husband came from a small town and hardworking parents like I did, and I don't think we've lost that mind-set. We don't have a bowling alley in our basement. We don't have houses on the beach and one in New York and one in L.A. I drive a three-year-old Ford Escape Hybrid. We don't care about stuff like that."
To read more about Carrie Underwood, pick up the June 2012 issue of Glamour.