Exclusive
Art Collectors Accused Of Stealing Their Own Priceless Paintings Have Their Names Cleared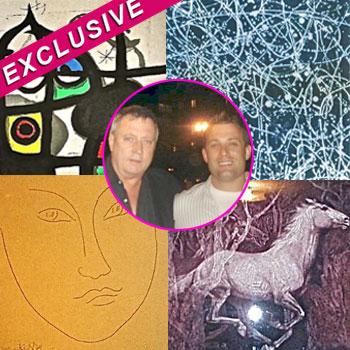 By Debbie Emery - RadarOnline.com Reporter
In a twisted plot that played out like The Thomas Crown Affair, a pair of California businessmen, who were accused of stealing their own multi-million dollar art collection, have finally gotten their names cleared after almost three years of fighting for justice, RadarOnline.com is exclusively reporting.
Angelo Amadio and Ralph Kennaugh were devastated when 14 paintings by world-renowned artists including Vincent Van Gogh, Jackson Pollack, Henri-Émile-Benoít Matisse and G.H. Rothe were stolen from their Pebble Beach, Calif. home in September 2009. The situation went from bad to worse when they were transformed from victims to suspects after being accused of lying that the artwork even existed.
Article continues below advertisement
"Sheriff Mike Kanalakis and the original detective on the case, Mark Stevens, held a press conference saying that the theft never took place," Amadio told RadarOnline.com in an exclusive interview Monday.
"We were accused of the art not being real and then investigated on insurance fraud despite there being no evidence. We had done nothing wrong."
At the time of the heist, the paintings were valued at $27 million, and the pair later revised the collection's estimated value to $80 million, which would make it one of the biggest thefts in fine art history.
The devastating aftermath of the accusations forced Amadio, an aspiring lawyer, to temporarily drop out of law school and instead try to prove to the legal world that he was not a master criminal.
In fact, Amadio believes that it was a case his law firm at the time was working on that sparked the finger of blame being pointed at him and Kennaugh.
"I was working for an attorney who was investigating the sheriff on civil rights violations," he told us. "I was burglarized and then had to call the sheriff to report theft."
Article continues below advertisement
What followed next was, "A smear campaign to ruin our name. He (Kanalakis) said we were in the mob because I was Italian."
In 2010, a new investigation was granted by Sheriff Scott Miller who had defeated the incumbent Sheriff, and on Friday the business partners finally got the good news that they are no longer suspects in the multimillion dollar theft case.
"Though numerous interviews were conducted, nothing substantial was developed which would lead me to a specific suspect(s)," wrote Detective R. Jorgensen in an e-mail to their attorney.
"Pairing that with the lack of physical evidence, I have concluded my investigation into Mr. Amadio and Mr. Kenaugh's burglary and have suspended the case pending any new developments."
The detective assured them, "I will be revisiting their case periodically to see if there is anything that I missed or if there is someone else that needs interviewing. I'm sure you can appreciate the fact that sometimes you get so involved with a case, that you need to step-away for a while and then look at the case again, hopefully with 'fresh' eyes."
Article continues below advertisement
The message brought an overflowing of relief to Amadio. "Sometimes I forget what a mess this was and how long it has lingered. Having closure and our names cleared was an unexpected gift," he told RadarOnline.com.
"This matter cost us greatly. Ralph most of his retirement, and myself almost a two year delay in my completing my J.D. (Juris Doctorate degree) and ability to practice law.
"Not counting the thousands of hours and incredible amount of funds that have been expended in searching for the art and clearing our names. But now Ralph will at least have some closure and I was granted permission to graduate on May 27 and to take the Bar Exam this summer."
Now that Amadio and Kennaugh are no longer suspects, they are excited to get on with their lives and focus their energy recovering the collection, for which they have offered a $5 million reward.
RELATED STORIES:
Second Male Masseur Files $2M Sexual Battery Lawsuit Against John Travolta
John Travolta Sex Accuser 'John Doe' Says He Has Proof Of Affair
Kris Jenner Slammed By Cosmetic Company About Facelift Lawsuit