American Idol: Two Singers Shine As Top 5 Perform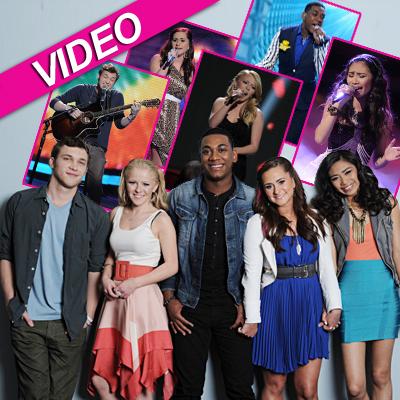 Joshua Ledet and Hollie Cavanagh made their mark as Ledet, a gospel singer, was perfect in singing the Bee Gees' To Love Somebody and the Temptations' Ain't Too Proud to Beg, leading to huge props from everyone.
"I've been doing this 11 years," judge Randy Jackson told him, "and you're one of the best singers on this show -- ever! And that's a big feat. That was incredible. Nobody can do that better."
Article continues below advertisement
Judge Steven Tyler told Ledet, "You've gotta be one of the top two best Idols of all time -- you sing so fine, you're such a talent -- you're so on fire."
The great Steven Van Zandt -- Bruce Springsteen's guitarist who reinvented himself playing mobster Silvio Dante on The Sopranos -- served as guest mentor Wednesday.
He was amazed at the aptitude Ledet showed in taking the Bee Gees' song, which he'd just learned, and mastering it so quickly.
"He walked away and did this incredible version of this song he hadn't heard before," Van Zandt said. "That was one of the greatest performances I've ever heard in my life."
Not to be outdone, Cavanagh impressed performing Ike and Tina Turner's River Deep, Mountain High and Leona Lewis's Bleeding Love.
Judge Jennifer Lopez saw something special in Cavanagh's stage presence, noting, "It was a different type of Hollie out there tonight," while Jackson dubbed her a "dark horse" to win.
Article continues below advertisement
Tyler also saw some progress, telling Cavanagh, "It's the first time I've really heard you step out and use your blues: you showed me you got it in you.
"Thank you lord!"
Watch the video on RadarOnline.com
Elsewhere, Skylar Laine sang Creedence Clearwater Revival's Fortunate Son and Dusty Springfield's You Don't Have to Say You Love Me; Phillip Phillips performed Box Tops' The Letter and the Zombies' Time of the Season; and Jessica Sanchez sang Proud Mary and Joe Cocker's You Are So Beautiful;
"This girl's in the top of the leader board right now," Jackson said of Sanchez.
Someone's getting eliminated when American Idol's 11th season continues Thursday at 8/7c on Fox.