Deadly Shooting In Tulsa May Be Hate Crime, Bail Set For $9.1 Million Each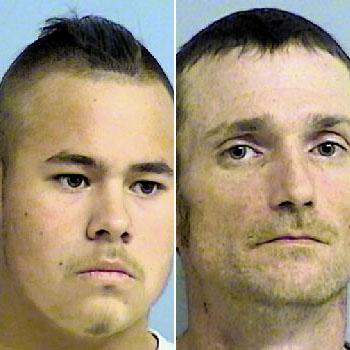 By Debbie Emery - Radar Reporter
A deadly shooting spree that left three African American men dead and two others injured is being investigated as a possible racial hate crime.
The gunmen who terrorized the north side of Tulsa, Oklahoma, on Friday night were in court on Monday where they were arraigned and held on $9.1 million bail each, reported KTUL.com.
Neither Jake England, 19, nor Alvin Watts, 32, had an attorney present and police have not yet determined which man was the alleged shooter, but they have both been charged with three counts of first-degree murder, two counts of shooting with the intent to kill and one count of possession of a firearm in the commission of a felony.
Article continues below advertisement
When asked if the triple murder was a hate crime, Tulsa County District Attorney Tim Harris replied that it was too early to determine.
"Right now, I need to concentrate on the murders and the shooting with intent to kill. Certainly we will look at all the facts and evidence and make the decision if the facts bear out, it's preliminary to determine what the motivation was behind this," explained Harris.
England and Watts were arrested in the early hours of Sunday morning following the launch of a joint task force called 'Operation Random Shooter,' in which the FBI, Oklahoma State Bureau of Investigation and U.S. Marshals joined Tulsa police in the search for the suspects.
Their seemingly unmotivated attacks took place at four different locations as they traveled across the area opening fire. The dead were named as 49-year-old Dannaer Fields, 54-year-old Bobby Clark and 31-year-old William Allen, while two others remain in the hospital in critical condition.
Article continues below advertisement
"We have not been able to find any commonality between the victims other than they were walking on the street," Sergeant Dave Walker of the Tulsa Police Department told ABCNews.com.
One possible motive being suggested is that the shootings were revenge attacks over the death of England's father, Carl, who was shot and killed almost two years ago by an African American, according to his Facebook posting that has since been taken down.
"Somebody that committed these crimes was very upset with black people," Tulsa Councilman Jack Henderson said on Sunday. "That person happened to be a white person. The people they happened to kill and shoot were black people. That fits the bill for me. That's a personal feeling."
The alleged gunmen are next due to appear in court on April 16.
RELATED STORIES:
Jennifer Hudson To Attend Trial Of Man Accused Of Murdering Her Family