Melissa Etheridge's Ex On Burning Their Child With A Cigarette: 'That Kid Has Insane Pain Tolerance'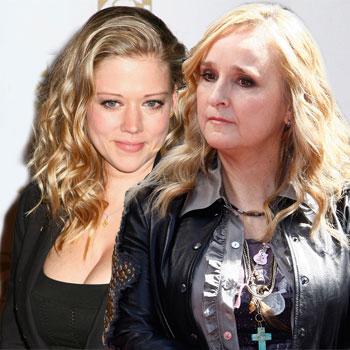 By Amber Goodhand - RadarOnline.com News Editor
Melissa Etheridge doesn't want to give her ex-partner any extra money in monthly child support payments and in legal documents filed last week, she even claims her ex accidentally burned their young son with a cigarette.
"Respondent Tammy Lynn Michaels admitted to Petitioner Melissa in August of 2011 that she smokes cigarettes and that she accidentally burned Miller when she dropped a cigarette on him," it stated in Melissa's legal documents.
Article continues below advertisement
"This is an unnecessary hazard for the children to be exposed to and exposure to secondhand smoke is detrimental to the children's health."
On April 10 in a poem titled "Laundering Secrets," Tammy addressed the cigarette burning incident explaining that while she was "doing her bad habit," their son unexpectedly ran up at her playing "Invisible Monster Tackling Mommy."
Tammy also goes on to say that her son "has insane pain tolerance" and that Melissa was alerted immediately — and in a flash turns the tables on her ex and all her "money secrets, sex secrets, pay-to-say-nothing secrets and cheating secrets."
Read Tammy's full poem below:
COURT DOCUMENTS: Tammy Files For Full Custody
standing outside
all that clean fresh air
of Los Angeles
(smog-free, of course)
but i'm standing outside nonetheless
because
dun-dun-dunnnnnnnn
i had a cigarette and i was smoking
now kids
they don't always listen,
do they?
when you stand 20 feet away from them and say
"Hey- Mommy's gonna stand over here for awhile
because I'm doing my bad habit;
Article continues below advertisement
you guys can't be up against me for
a few minutes"
how does one know
that her amazing son
with strong and luscious arms and legs
would try to play
Invisible Monster Tackling Mommy
at
that
precise
moment?????
one second I was watching a kid chase a dog,
the next second
a kid was jumping me from behind
how come i was the only one that hollered?
that kid has insane pain tolerance
his tender flesh to the nicotine pencil on fire
so fast, so quick, he insisted it didn't hurt
gimme a break kid
don't try to be a hero
that's gotta suck
after a(nother) lecture on listening to words
(and staying away from Mommy when
she's puffing on fire)
it seemed all had been forgotten about
except
for
inside me
the all-consuming guilt
the horrible knowing
that my boo-boo
had a boo-boo
FROM ME!!!!!!!!
NOOOOooooooooo......
I alerted his other mother immediately, because
Article continues below advertisement
it's the right thing to do
no matter how embarrassing
thank god it's written now
for all the world to see
it's hard to hide a secret
i cannot
i suck at it
well, my secrets anyway
others' secrets?
not mine to tell
i'm golden like that.
someone else? secrets for them?
dunno.
money secrets
sex secrets
pay-to-say-nothing secrets
cheating secrets
other-people-wrote-it secrets
so many secrets to hide from
...point to another circumstance