Sex Toys Tipped Off Melissa Etheridge's Lover The Relationship Was Over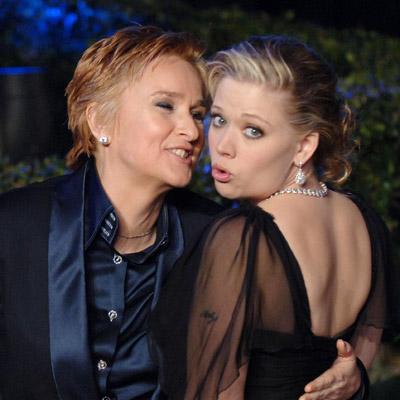 Melissa Etheridge's ex-partner Tammy said she suspected her relationship with the Grammy-award winning rocker was over after a box of sex toys meant for Melissa was accidentally delivered to Tammy's new rental home after she moved out of the couple's home.
Tammy went on the attack in her blog Tuesday, seemingly implying that Melissa had cheated on her when Melissa's new lover, Nurse Jackie creator Linda Wallem, moved into their home right after Tammy moved out in November of 2009.
Article continues below advertisement
Tammy writes: "she (Melissa) said it would help..i was convinced it would too and i trusted there was no one else..i didn't know there was someone moving in as i was moving out."
(Wallen, by the way, had been long-time friends with the couple and was even Etheridge's "best man" at their wedding.)
EXCLUSIVE VIDEO INTERVIEW: Melissa Etheridge Talks New Album, Single Motherhood
In her blog, Tammy wrote that three weeks after she moved out of the couple's home, "a box of new toys... was delivered and her assistant brought... it to my rental house as a mistake... i opened it... and that's when i felt something was up... i called her... 'i have your new d * cks on my kitchen counter?'"
Tammy also made a point of not directly accusing Melissa of cheating by writing this strong disclaimer: "i want to clarify without dealing with getting sued for SLANDER (and paying someone), which would include me saying that the two were involved while I was living there (it is still my house, by the way). and i haven't gone just that far yet."
But all of the blog wasn't just about Melissa -- Tammy also included some good news of her own, writing: "and i met found someone myself. apparently they specialize in inflating roadkill? someone who almost made me believe in the tooth fairy again. which means there's hope for those of us who got even the most flattened. the tooth fairy, santa claus, and even leprechauns. now- i'm not sure what the next move with this chick is- do i leave her a tooth under my pillow? cookies and milk by a tree? green beer on the doorstep?"
Article continues below advertisement
Melissa Etheridge Speaks Out About California's Ban On Gay Marriage
Interestingly, Tammy signed the blog Tammy "Etheridge", and added this explanation for not using her maiden name "Michaels", writing: "who has never ever changed her married/family name, so someone explain why the press has changed it for her? just curious."
The Come To My Window singer wed Tammy in a September 2003 ceremony in Malibu, California, and the pair separated in April 2010. Tammy, with the help of an anonymous sperm donor, gave birth to their twins, son Miller and daughter Johnnie Rose, on October 17, 2006.