Matt Lauer Confirms He's Staying On Today: 'This Is My Family'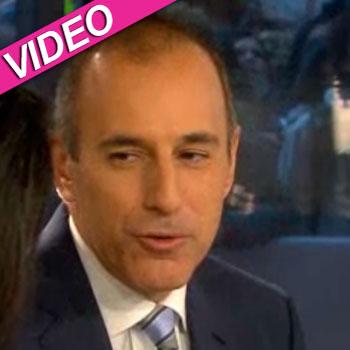 It's official! Matt Lauer will have many more tomorrows at Today.
Lauer announced on Friday's Today that he has signed a long-term deal to remain as host of the popular morning show. "This is my family," he said as his co-anchors and crew burst into applause.
News that Lauer had reached a deal first came Thursday night. Megan Kopf, spokeswoman for NBC Universal, said in a statement: "I can confirm that Matt Lauer will announce that he has signed a new long-term contract with NBC News as co-anchor of the Today show."
Article continues below advertisement
Since Lauer joined Today in 1994, it has dominated Good Morning America in the ratings race, although with the departure last year of Meredith Vieira, the gap between Today and GMA has narrowed.
The signing puts to rest rumors that Lauer, 54, would join up with former Today Show co-anchor Katie Couric on her upcoming syndicated talk show; or that NBC would ink Ryan Seacrest if Lauer's financial demands were deemed unreasonable.
Earlier this week, Lauer and Seacrest were pleasant when the American Idol host appeared on the show to announce he'll be part of NBC's broadcast team for this summer's Olympics in London.
The ambitious Seacrest teased that if Lauer didn't want the spot, he'd be more than glad to take it.
"I see you doing this for as long as you want to," Seacrest told Lauer, "so maybe the question is, 'How long will you be on the Today show?''