Marine Wins Fight To Adopt Her K-9 Partner From Iraq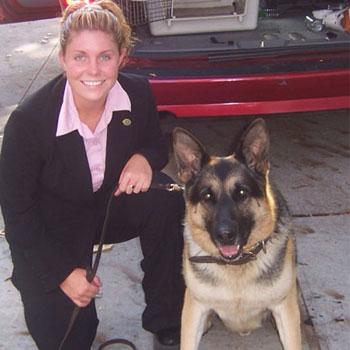 The heart-warming story of a brave Marine who fought to adopt the German Shepherd Dog she served with in Iraq has had a happy ending.
As RadarOnline.com previously reported, former Cpl. Megan Leavey led a public campaign to save the life of her former K-9 partner, Sgt. Rex. The bomb-sniffing military dog faced being put-down after being retired from service with a disability.
Cutting through miles of red tape -- military dogs are routinely considered unadoptable and are put down after their service -- Leavey on Friday was formerly permitted to adopt Sgt. Rex.
Article continues below advertisement
Megan and Sgt. Rex were on two tours of Iraq together until a roadside bomb explosion took them both out of action. The 28-year-old Leavey, who won a Purple Heart, was discharged from the Marines in December 2007 because of her injuries. Her partner was deemed fit to go back to work.
But Sgt. Rex, now 10, was recently retired from service after being diagnosed with facial palsy. Megan immediately applied to adopt him and was turned down. But the former Marine wouldn't take "no" for an answer.
A thrilled Megan said: "Hopefully his last days will be happy. He'll have a big fenced in backyard to play in with a ton of toys and a nice, comfortable bed."
On Friday Megan attended Sgt. Rex's official retirement ceremony at Camp Pendleton. The two will fly back to New York where she lives with her husband, Randy.
RELATED STORIES:
DWTS Champ J. R. Martinez Invited To Visit The Pentagon