Exclusive
Comedian Kevin Hart's Ex-Wife Wanted 90k A Month For Child Support!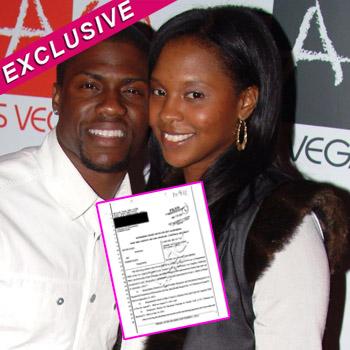 Article continues below advertisement
DOCUMENTS: Kevin Hart Petitions For A Child Support Hearing
According to a written ruling in the divorce settlement, Judge Hank Goldberg said, "The position that the court was compelled to make a guideline child support order of $90,000 a month in this case seems far fetched and unsupported by case or statutory authority." The Hart's are parents to two children, daughter, Heavenly, 6, and son, Hendricks, 4. The Harts were married for seven years, and the judge ordered Kevin Hart to pay $23k a month in child support.
The divorce was recently finalized and on Wednesday the judge sanctioned Torrei, causing her to become irate and combative. "At the conclusion of the hearing in which the judge ordered Torrei to pay Debra Opri's legal fees for a filing motion Torrei was absolutely livid that she had been ordered to pay a portion of Kevin's legal fees, and she lunged at Debra Opri, who was in the hallway at this point. Several sheriff's deputies had to restrain Torrei and separated the two. Torrei said that Opri was a 'b*tch,' and Opri was shaken up after the incident. Torrei wasn't arrested," an eyewitness told RadarOnline.com exclusively.
Article continues below advertisement
EXCLUSIVE DOCUMENTS: Kevin Hart Files For Divorce
Opri brokered the divorce which gives Hart joint custody of the former couple's two children, and our sources tell us he is a devoted dad. "Kevin pays Torrei child support and just wishes that Torrei would get over the bitter feelings she has towards him for the sake of the children," the insider says.
RELATED STORIES:
Comedian Kevin Hart's Estranged Wife Attempts To Assault His Attorney In Court!