Female Body Builder Reveals: 'It's Hard To Meet Men' Because Of How She Looks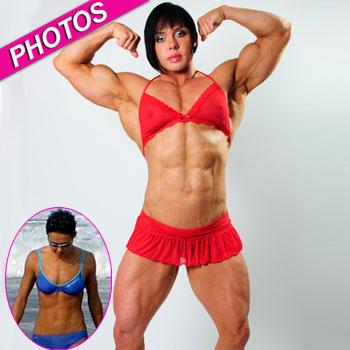 Rene Campbell may be a world champion bodybuilder, but her success in the fitness world has taken a toll on her personal life.
The 35-year-old British woman, who has been bulking up her body for the last 5 years and has won several body-building competitions, opens up to the UK's Now magazine about how her "marriage" to her career and her intimidating physique make it hard for her to meet men.
Article continues below advertisement
"I'd love a boyfriend who could cheer me on at competitions and cook my chicken for me, but the way I look does make it harder to meet men," she explained to the magazine. "But what makes having a relationship even harder is finding someone who can put up with my regimented lifestyle. I was dating two years ago, but the guy struggled with the fact that I had to put my training first."
Campbell, who trains 2 hours each day and maintains a whopping 4,200-calorie per day diet, weighs in at around 200 pounds and boasts 48-32-37 measurements.
MORE ON:
Sexiest Bodies Hollywood
The single mother of two, who divorced the father of her children over 9 years ago, explains on her website that she chose her career path because she wanted to push herself.
"I had been doing triathlon and long distance running for years and at the suggestion of a friend decided to train for a bodybuilding show. I reasoned with myself that if I didn't like it I could walk away. I was tired of the hours of cardio each day and wanted a new challenge."
"For the first time in my life, I feel comfortable in my own skin," she reveals to Now about her dramatic 5-year transformation. "I can't ever imagine being thin again – I'm so much happier this way. For now, I guess I'm married to the industry."
RELATED STORIES: