Transgender Bodybuilder Makes Competitive Comeback As A Woman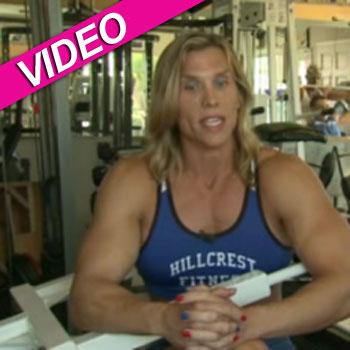 Chris Bruce is the father of two and a former professional bodybuilder. Today the 42-year-old is making a controversial comeback - as a transgender woman.
Despite last competing 20 years ago, the long-haired blonde - who now goes by Chris Tina Foxx Bruce - is set to take the stage tonight and flex her pecks as a female.
"If you think about it, I am the ultimate bodybuilder," Bruce told San Diego's Fox 5 "Because that is what bodybuilding is about. It's taking your body and transforming it, or building it, into something."
Article continues below advertisement
Bruce, who will compete as a woman for the first time at the Border States Classic bodybuilding competition in San Diego, started the transgender process in 2008. She had breast implants and facial surgery in 2009.
For years before the surgery, Bruce hid his cross-dressing from his wife. The couple has since divorced.
Now working as a personal trainer, the 6'1" Bruce weighs in at 190 lbs. She says Chaz Bono's participation on Dancing with the Stars was her inspiration for going public.