How To Get A Celebrity Bod in Just 8 Minutes A Day!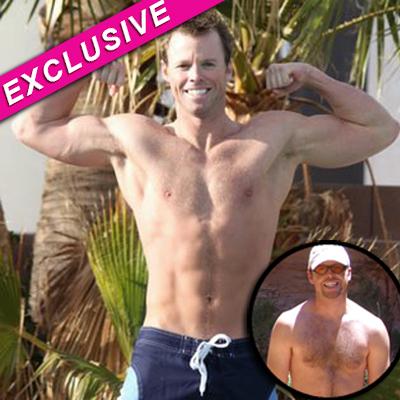 Spencer Larson knows how tough it is not only to get in shape, but to stay in shape.
But who has the time to work out? Spencer tried to keep fit. Between working and raising 5 children, he still tried to dedicate 1-2 hours a day, 5-6 days a week working out. Yet he was seeing minimal results and soon found himself 40 pounds overweight.
Then he discovered interval training and it changed his life -- and his body. And you can do it too, from your own home in just 8 minutes a day. Spencer shared with RadarOnline.com his secrets to getting a great bod -- and keeping it!
Article continues below advertisement
Radar: Tell me about your workout "20 Second Fitness". What does it involve?
Spencer: The great thing about this workout is that it involves very little. All you need is yourself, gym shoes and the resistance bands that come with the DVDs. Each day's workout is between 4-12 minutes long and is broken into 4-minute sets of intervals – 20 seconds of high-intensity exercise followed by 10 seconds of rest. In order to get the full benefits, it's important that for those 20 seconds you are really pushing yourself as hard as you can.
Radar: Can people really change their bodies exercising only eight minutes a day? How it that possible?
Spencer: Absolutely. I know it sounds crazy, but there have been several studies released recently showing the positive effects of short, intense workouts. In a study of 20 Second Fitness users, we found the average weight loss to be 16 pounds in 6 weeks. What we're doing is overloading the anaerobic system, forcing our bodies to burn more calories for longer periods of time, even after we stop exercising.
Article continues below advertisement
Radar: Is this an especially good workout regime for beginners and people who might be reluctant to go to the gym?
Spencer: Yes. Those who may be reluctant to go to the gym may be hesitant for a variety of reasons – self-conscious about their body weight, not knowing what to do or how to work certain machines, etc. With 20 Second Fitness, not only can people begin their fitness lifestyle in the privacy of their home, but these workouts can be tailored to any fitness level. Whether you're a beginner or a marathoner runner or even a body builder, you can make each exercise as difficult or as easy as you want.
Radar: What kind of results (increased muscle, weight loss) have people on the program reported?
Spencer: Weight-loss is the most common goal and often the most common result, but results also include increased strength, better speed/race times and an overall improved sense of well-being.
Radar: You weren't always in the best of shape. What was your highest weight, and tell me about an incident at a pool in 2008 that made you decide to change your body.
Article continues below advertisement
Spencer: I currently weigh 175. I have weighed as much as 215 a few different times and my average weight was around 200 before adding 20 Second Fitness to my life. The big wake up call for me, that I needed to change the way I did things, was in the fall of 2008 when I was at the pool with my family and some friends. At this point in my life I had been working out consistently for 3 years for 1-2 hours a day 5-6 days a week with minimal effects. While at the pool one of my friends said "Spence for someone that exercises as much as you I thought you'd look better than this." That is the day I realized that if I am going to be working out I want to look the part. From there I became more open minded to trying other things and 9 months later when Dr. Mok explained the science behind 20 Second Fitness, I knew it was the answer to my weight loss problems.
Radar: Of course, working out alone isn't enough to get into shape. Talk about the importance of nutrition in any workout regime.
Spencer: Nutrition is very important but I always tell people to start with baby steps. First make exercise part of your daily routine, then incorporate healthy eating habits. If you try to do it all at once, you will give in to cravings easier or it will become less of a lifestyle change, and more of a short-lived diet.
Radar: Tell me about your DVD set and how people can purchase them.
Spencer: 20 Second Fitness comes with 6 DVDs including 40 different workouts in addition to resistance bands, jump rope, food guide and a progress calendar. The program can be purchased on the website, 20secondfitness.com.
radar_embed service=5min.com src=" http://pshared.5min.com/Scripts/PlayerSeed.js?sid=1126&width=486&height=412&playList=517713141&sequential=1&shuffle=0"