Desirable Or Delusional? Columnist Claims Women Hate Her Because She's Just Too Beautiful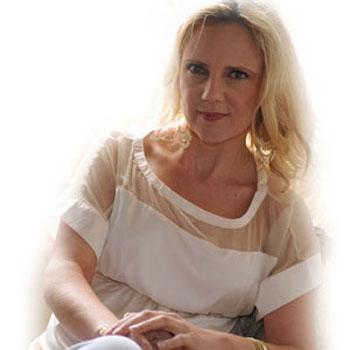 By Alexis Tereszcuk - RadarOnline.com Entertainment Editor
They say that beauty is in the eye of the beholder.
A 41-year-old woman has written an article for the MailOnline website complaining that being so beautiful has a steep price and women "hate her" for her looks.
Samantha Brick, a former TV executive, described her life as a series of incidents where she's showered with champagne and cocktails in bars, bunches of flowers from men in the street, cab fares paid and free train tickets, all because of her self-described good looks.
Article continues below advertisement
"While I'm no Elle Macpherson, I'm tall, slim, blonde and, so I'm often told, a good-looking woman," Brick writes. "I know how lucky I am. But there are downsides to being pretty — the main one being that other women hate me for no other reason than my lovely looks."
Samantha says that her good looks have had dire effects on her personal relationships.
"I'm not smug and I'm no flirt, yet over the years I've been dropped by countless friends who felt threatened if I was merely in the presence of their other halves. If their partners dared to actually talk to me, a sudden chill would descend on the room," she claims.
She even says she's never been asked to be a bridesmaid in her whole life, because of fear her beauty would outshine the bride!
Samantha, who lives in France with her husband of four years, said that her professional life has been affected by her beauty as well.
"One contract I accepted was blighted by a jealous female boss. It was the height of summer and I'd opted to wear knee length, cap-sleeved dresses. They were modest, yet pretty; more Kate Middleton than Katie Price.
Article continues below advertisement
"But my boss pulled me into her office and informed me my dress style was distracting her male employees. I didn't dare point out that there were other women in the office wearing similar attire.
"Rather than argue, I worked out the rest of my contract wearing baggy, sombre-coloured trouser suits. It was clear that when you have a female boss, it's best to let them shine, but when you have a male boss, it's a different game: I have written in the Mail on how I have flirted to get ahead at work, something I'm sure many women do."
However, Samantha bemoans, even when she tries her hardest to play down her beauty, she can still end up in an unpleasant situation. "But even these ploys don't always work," she says. "Take last summer and a birthday party I attended with my husband. At one point the host, who was celebrating his 50th, decided he wanted a photo with all the women guests. Positioning us, the photographer suggested I stand immediately to his right for the shot.
Article continues below advertisement
"Another woman I barely knew pushed me out of the way, shouting it wasn't fair on all the other women if I was dominating the snap. I was devastated and burst into tears. On my own in the loos one woman privately consoled me — well out of ear-shot of her girlfriends."
Samantha goes on to say that she's discriminated against especially by older women.
"I find that older women are the most hostile to beautiful women — perhaps because they feel their own bloom fading. Because my husband is ten years older than me, his social circle is that bit older too."
Unlike women in Hollywood, who spend thousands on plastic surgery to stay young, Samantha says she is looking forward to actually losing her looks.
"So now I'm 41 and probably one of very few women entering her fifth decade welcoming the decline of my looks. I can't wait for the wrinkles and the grey hair that will help me blend into the background," she says.
"Perhaps then the sisterhood will finally stop judging me so harshly on what I look like, and instead accept me for who I am."