Christina Ricci Rents Out Her Hollywood Cottage For $8,000 A Month, See Inside!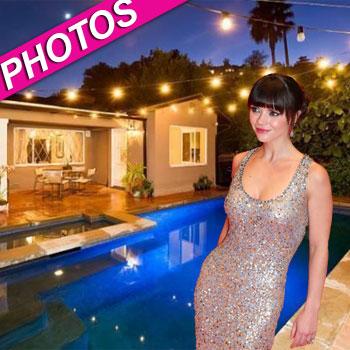 By Debbie Emery - Radar Reporter
Christina Ricci took to the high skies for her latest TV venture Pan Am, and now the critically acclaimed actress is moving on ground-level too after putting her Hollywood Hills home up for rent.
The cozy 2-bedroom, 3-bathroom cottage was bought by Ricci in 2005 for $1, 505,000, and instead of selling it in a bad real estate market she has opted to rent out the house for $8,000 a month, reported Trulia Luxe Living.
Article continues below advertisement
The open plan 1,891 square-feet design includes a wood floor in the living room with delicately-designed wallpaper and a sleek white kitchen, all of which are decorated in the artsy-style you would expect from the Addams Family star.
Outside, a large pool and Jacuzzi lit by strings of tiny bulbs is the perfect spot for entertaining.
RELATED STORIES:
Ashton Kutcher Buys Hollywood Hills Home Eyed By Justin Bieber: Take A Peek Inside!