Celebrity Twitter Pics Of The Week! The Good, The Bad & The Outrageous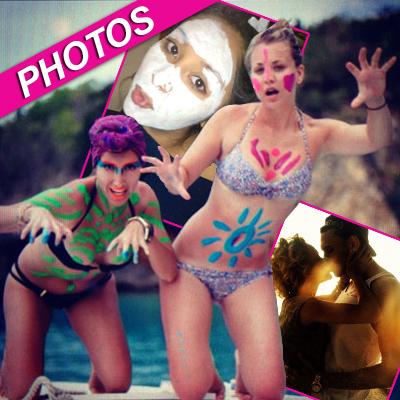 RadarOnline.com Features Editor
Who were this week's most snap-happy celebrities?
Hollywood's hottest stars love sharing their personal photos with their fans via Twitter, and this week was no exception!
From face-masked glamazons and sexy smooches to totally inappropriate public urination acts, RadarOnline.com has photos of all the good, bad and outrageous Twitter photos of the week in our special feature.
Article continues below advertisement
While Rihanna posted a gorgeous photo decked out like an African princess, it was her ex-boyfriend's current girlfriend, Karrueche Tran, who got the last laugh. Instead of using nasty words to fuel her ongoing Twitter war with RiRi, the model posted an in-your-face photo of her passionate sunset kiss with Chris Brown, along with the caption "head over heels."
Kim Kardashian and Snooki usually won't leave the house without a face full of makeup, but both the reality stars shared glammed down photos of themselves plastered in face masks!
Kaley Cuoco showed off her bikini body covered in paint, while Ke$ha upped the ick factor, outrageously posting a photo of herself peeing in the middle of a public street.
What other stars shared good, bad and outrageous photos on Twitter this week? Find out by clicking here.