Plastic Surgery Too Soon? 10 Stars Who Are Rumored To Have Gone Under The Knife Before 30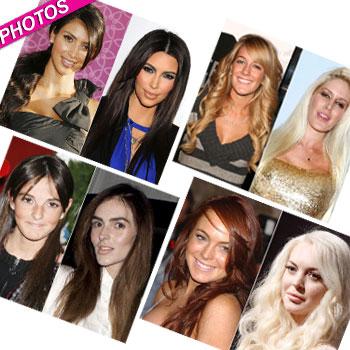 While many people wait until they begin aging to go under the knife, Hollywood stars get an early start with plastic surgery!
From nose and boob jobs to tummy tucks and liposuction, young Hollywood stars are no strangers to the plastic surgeon's office. RadarOnline.com has photos of ten stars who are rumored to have gotten a little nip-and-tuck before their 30th birthday – for better or for worse!
Article continues below advertisement
There is no question about it – Lindsay Lohan's legal status isn't the only thing that has changed since her Mean Girls days! The troubled starlet's face has dramatically transformed since she was a sweet-faced teen, and now the 25-year-old looks much older than her age. Though she has never addressed the plastic surgery chatter, the proof is in the pictures.
Megan Fox is one of Hollywood's sexiest stars, but were her good looks a gift of mother nature, or did the hot-bodied Transformers star get a little help from a doctor? Shown in 2004 and in 2010, it doesn't take an expert to determine that Megan has undergone a few procedures.
Ashley Tisdale is a High School Musical Graduate who has admitted to going under the knife when she was 22 years old, but not for cosmetic purposes! In 2007, she had a nose job to "repair a deviated septum."
Heidi Montag is probably the youngest plastic surgery disaster of all times. The Hills star began going under the knife in 2007 when she was only 21 years old, and then 2 years later shocked the world by undergoing a whopping 10 procedures in one day.