WATCH: NBA Player Punches Team Mascot, Sends Him To Hospital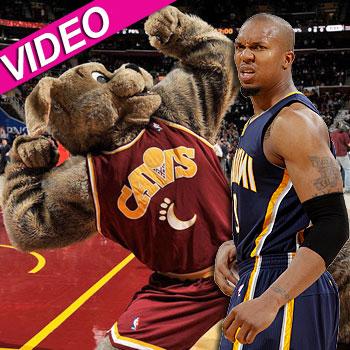 It wasn't your usual NBA blow-up, but video of Indiana Pacers star David West punching out Moondog, the mascot for the Cleveland Cavaliers, has gone positively viral.
It happened just before the start of Wednesday night's game, and no one seems to know why West thought it was funny to punch the popular mascot in the snout.
The mascot -- local DJ Alan Freed -- was taken to the hospital with an eye injury. Fortunately, it was minor, and only required ice to bring down swelling.
Article continues below advertisement
West has now apologized and sent Freed an autographed a pair of shoes and a jersey.
"I feel bad the dude got hurt," West said Friday. "I thought I was just hitting the costume. When they told me after the game that he had got hurt, I felt bad because I seriously didn't know our playing around would cause him to get hurt."