Backstreet Boy A.J. McLean & Wife Expecting First Child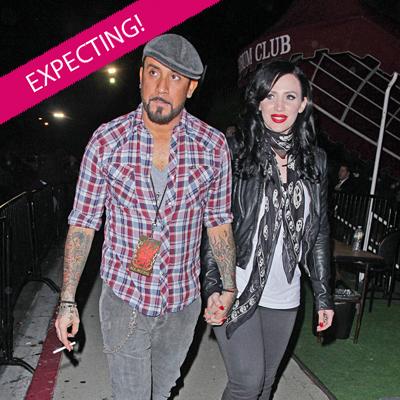 A.J. McLean used to make girls scream and cry; now he might be tending to a screaming, crying girl!
The former Backstreet Boy and his wife Rochelle Karidis said in a Youtube video Sunday that they're going to be parents.
"I just wanted to say thank you guys for all your love and support," says A.J., 34, in the video. "Because we love you all so much, we wanted to share with you -- for the first time -- something very special.
Article continues below advertisement
"We're having a baby!"
A.J. celebrated his impending fatherhood Sunday wearing a shirt that read "Daddy-to-be' at his Backstreet concert at London's O2 arena.
"Another Backstreet baby, I've got a feeling it's going to be a girl!" he said Sunday. "My wife is out there, I love you. I'm going to be a dad, what more can I say?"
The celeb duo married in December at Beverly Hills, with celebs like Kathy Griffin and Nick Carter in attendance.