Tiger Woods: No Sex With Porn Stars Unless He Loves Them, Says Coach Hank Haney In New Tell-All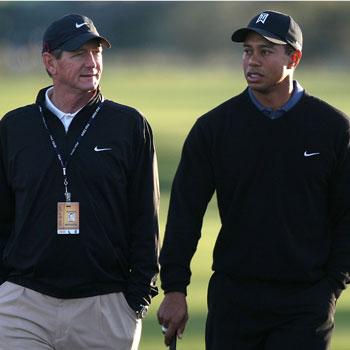 Tiger Woods is not likely to put The Big Miss on his summer reading list. The tell-all book by Hank Haney doesn't paint a pretty picture of the golfing superstar.
Haney, who quit as Woods' swing coach in 2010 after six years on the job, shares the lesson Tiger told him he'd learned going through sex addiction treatment.
"There are some girls who are going to be after me even more now, especially the wild ones," Haney writes that Woods told him. "But what I learned is that for the rest of my life I can't have sex with someone unless I genuinely feel something for them. If I do, I'm putting myself in jeopardy."
Article continues below advertisement
Haney's book, due out March 27, also presents the golfer as a tempestuous, rude, cheap, porn-watching superstar oblivious to those around him, according to The New York Post.
One example, says Haney, is how Tiger finishes meals in restaurants. Once he's done, he gets up to leave, and everyone is expected to follow. "When he was done — and he habitually ate fast — you were done," Haney recalls.
And whenever they got takeout, Haney would have to pick up the food — and the tab. "He seemed to think it was funny to be cheap."
Haney brings up Woods ignoring "little-kid autograph seekers who were begging him to stop," and loving his sexploits being used in a South Park episode, laughing when his character called his wife a "crazy bitch" and a "stupid Swedish cow" as she shrieked at him and hit him with a golf club.
Haney also describes Woods as mean and childish in recounting what he did to fellow golfer Zach Johnson, a devout Christian. A month before the Ryder Cup in 2006, team captain Tom Lehman had golfers share hotel rooms in Ireland.
Article continues below advertisement