Stop Monkeying Around! Steve-O Pleads To Congress To Ban Experiments On Chimpanzees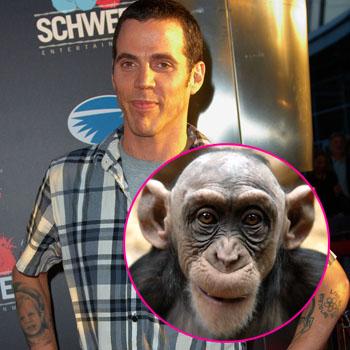 By Debbie Emery - RadarOnline.com Reporter
Jackass star Steve-O is putting his boundless energy towards something more worthwhile than playing violent pranks on his buddies or doing dumb death defying stunts, and RadarOnline.com has details on his worthy new cause.
The Hollywood bad boy, whose real name is Stephen Glover, has a soft spot for chimpanzees and is planning to ask Congress to support legislation that will spare chimps in the United States from painful, invasive experiments and release hundreds of animals to sanctuaries.
Article continues below advertisement
"Many people know me as the guy who intentionally harmed himself over and over on the show Jackass," Steve-O wrote in a letter to Senator Barbara Boxer. "But I am actually very serious about some things -- Including protecting chimpanzees and other animals from being intentionally harmed."
Steve-O isn't the only star to fall for the charms of Tarzan's best friend, Alec Baldwin, Kristin Bauer, James Franco, and Ellen DeGeneres have all written letters to Congress about the Great Ape Protection and Cost Savings Act, and more than 175 U.S. lawmakers have signed on as co-sponsors.
If passed, supporters claim that the bill will help chimpanzees retire to sanctuaries, advance medical research and also trim millions of dollars from the federal budget.
Many other countries around the world are ahead of the U.S. when it comes to recognizing chimps' rights. The UK banned licenses on experiments on chimpanzees in 1997, and since then New Zealand, the Netherlands, Australia, Sweden, Austria, Belgium and the European Union have followed suit.
Article continues below advertisement