How Spanx's Sara Blakely Went From Broke To Self-Made Billionaire!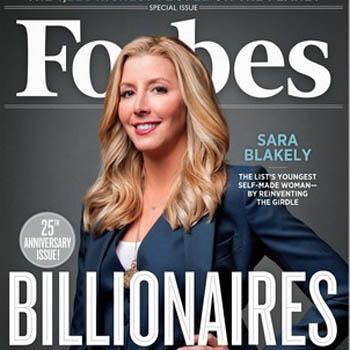 Sara Blakely is the youngest self-made billionaire on Forbes magazine's annual list of the richest people on the planet, but how did the curvy blonde make all of her moola?
Forbes profiles the undergarment entrepreneur, who is featured on the cover of their March 26, 2012 issue, revealing how the 41-year-old former Disney World employee started one of the most successful fashion businesses of all times, with only $5,000 in her bank account!
Article continues below advertisement
"I'd never worked in fashion or retail. I just needed an undergarment that didn't exist," she states to Forbes about the inspiration behind Spanx.
The then 27-year-old moved to Atlanta with her meager life savings and began planning her business venture, while working her sales job nine-to-five. Instead of hiring professionals, Blakeley did most of the grunt work herself – even writing her own patent from a Barnes & Noble textbook.
"The word 'Spanx' was funny," she says. "It made people laugh. No one ever forgot it."
After landing an account with Neiman Marcus, Blakely began shipping orders in white envelopes from Office Depot, and running the business with no other employees. She also handled all of the marketing and PR herself and did demonstrations for department store employees on how to properly use the undergarments.
But her biggest break came after shipping samples to Oprah Winfrey's stylist Andre Walker. In November 2000, Oprah named Spanx her favorite product of the year – and Spanx didn't even have a website yet!
Article continues below advertisement
In its first year, Spanx made $4 million and $10 million the next, but Blakely didn't slow down, hiring Laurie Ann Goldman as a consultant in 2002. Goldman worked out of the kitchen of Blakely's Upper East Side apartment, trying to professionalize the company.
In 2004, Blakely was the runner-up on Richard Branson's Rebel Billionaire show, and used her earnings of $750,000 to start a foundation. To date, it has donated $17.5 million to charities aimed at supporting girls and women in South Africa.