Abandon Ship! Bethenny Frankel Opens Up About Ill-Fated 'Marriage Counseling' Boat Trip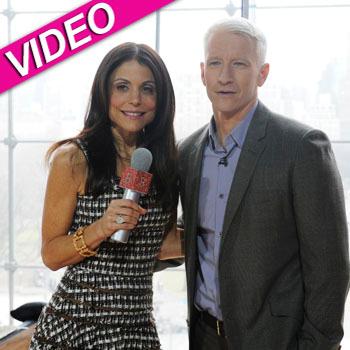 Article continues below advertisement
"What happened was we were on a boat with my therapist. My husband, myself and another couple. Which I know that's torture enough," Frankel told Anderson. "My therapist told us he - I don't want to say team building - but he does these relationship building trips where he'll take two couples on a sail boat and it's about working together and towing the line and staying the course."
Unfortunately, what Bethenny thought was going to be a glamorous sailing trip to an exotic location like St. Thomas ended up being a freezing cold jaunt to Block Island in the state of Rhode Island.
"My husband got terrible sea sickness and all of a sudden I felt a big crash, a wave hit us and the GPS went out and the next thing you know I heard the captain saying, 'Maria Cristina to the Coast Guard,'" recalled Bethenny.
"I mean, I'm not that sea worthy," she said.
"It had never happened in 35 years of my therapist doing this. We were freaking out. We were with my camera crew and I was like, 'Oh my God this is about them too,' One of the guys can't swim, we were panic stricken," explained Frankel, who is furious that viewers have accused the scary incident of being scripted.
Article continues below advertisement
"To hear someone say that it was fake was very insulting because I was freaking out. My daughter was in Nantucket, I wasn't going to get to her, I had no cell service, I couldn't tell my nanny that I was going to be late and it made me think of all these things with her," she said. "The whole thing was horrendous."
The only good thing about the ordeal was that the Bethenny Ever After star, who as RadarOnline.com previously reported has felt "tortured" in her marriage, and her husband Jason Hoppy didn't turn on each other when things got rocky. "We actually got along very well, no one blamed anybody for dragging them on this ship of fools."
MORE ON:
Bethenny Ever After
But, when it comes to her therapist, the damp debacle was almost the final straw in their relationship.
"I was like, 'you know what, I'm healed. I was insane, you've driven me more insane,'" Bethenny told Cooper. "I'm now giving my therapist therapy by the way. He's never been under so much scrutiny after this thing. I'm giving him sessions now," she joked.
Watch a sneak peek of Bethenny's interview with Anderson below: