Philadelphia's Inner City Polo Team Beating Their Ivy League Rivals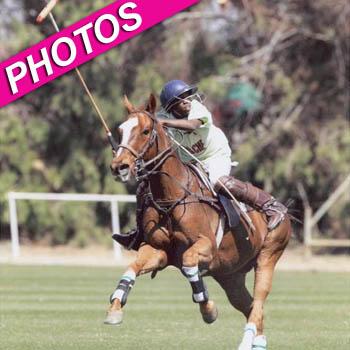 By Debbie Emery - RadarOnline.com Reporter
The mean streets of inner city Philadelphia are usually home to pick-up basketball games or touch football, and as night falls, drugs, crime and gang violence.
Now a groundbreaking scheme is bringing the 'Kings Game' to the slums with the surprise success of America's first all-black polo team based in a barn in the heart of Philadelphia's Fairmount Park, reported CNN.com.
Article continues below advertisement
A group of inner city youth has been given the opportunity of a lifetime to swap their skateboards for saddles through the Work To Ride program where they muck out stalls in the former mounted police stable in exchange for riding the 30 horses that are kept there.
Not only are these talented teens learning equestrian skills and horsemanship, they are beating much more affluent and well-educated rivals on the polo field!
The team has played nose-to-nose with polo programs from prestigious college teams such as Harvard, Cornell, UConn and the University of Virginia in warm-up games, and often end up crushing their opponents. Ivy League team Harvard was even embarrassed with a 20-3 beat down by their Philadelphia rivals.
Last year, Work To Ride's men's high school polo players became the first African-American team to win the National Interscholastic Polo Championship, and on Friday they defend their title.
Article continues below advertisement
"With us, we really want it. Every time we step on the field we know our goal is to win," said player Brandon Rease, 16. "It's a great feeling to know that you're on the top, and especially when you're one of the few at that level."
Many others see their love of the stable, which was opened in 1994, as an escape from the hardships of a path that society destined they follow.
"This is my second home, and I need to be here if I want to be something in life," said sixth year player Kenshaun Walker, 15. "This is my top way to get me out of Philadelphia."
"I don't like being around where I live," revealed 14-year-old Sydney Rutledge, who saw a man shot in the street in front of her one evening when she was being dropped home from the stables.
Instead of skipping school, doing drugs or stealing cars, these urban kids just want to ride. "I don't care if I'm not rich. I don't care if my mother's single. I don't care what I don't have," explained Walker. "I'm willing to do anything in life to make it to the pros in polo."
Article continues below advertisement
Sadly not all the Work To Ride teens escape the violence that they were born into.
In 2003, a young rising polo star named Mecca Harris was gunned down with her mother and mom's boyfriend before she could compete in the Pennsylvania Hunt Cup. Her memory still lives on with a plaque hanging on the door of the equipment room and her name etched into the concrete stable floor, as a chilling reminder of the violence that surrounds the horse-filled oasis.
Mecca was carried to her funeral on a horse drawn carriage with her favorite polo pony, Beuda, loyally following the procession.
Despite their success on the field, Work To Ride still struggles with the financial stakes and exorbitant cost of feeding and up keep of three dozen horses, which costs $10,000 per student each year.
"People say, 'Why do you keep trying?'" said executive director Lezlie Hiner, who founded the program on her love of horses and her desire to help the community. "And I guess because you keep hoping the light bulb will go on."