Exclusive
Marine Fights To Adopt Canine Partner She Served With In Iraq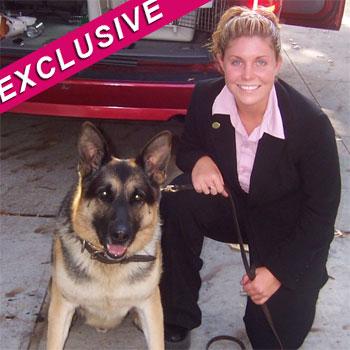 It's a tearjerker of a tale fit for the movies; a former Marine fighting to save the life of her comrade - the only difference is her partner is a German Shepherd Dog called Sgt. Rex.
Brave Megan Leavey served alongside her bomb sniffing buddy through two deployments in Iraq until a roadside explosion took them out of commission. After rehabbing from their respective injuries, Megan was discharged in December, 2007 while Sgt. Rex was deemed fit to go back to work.
Article continues below advertisement
Leavey, who was awarded a Purple Heart and several other commendations, is now desperately trying to adopt the beloved canine for fear he will be put down.
Sgt. Rex, at 10, a canine senior citizen, was recently retired by the military due to a health condition called facial palsy. And for safety reasons, once these dogs are taken out of service, they are most often put down because they are assumed to be unadoptable.
"I've been waiting for this moment for a long time," she told RadarOnline.com in an exclusive interview from her home in Valley Cottage, NY. "It would mean the world to me to have him back with me. He's retired now and he should live the rest of his life in the comfort of my home."
It's now a race against the clock as Megan tries to cut through military red tape to adopt him before he is put down.
Sgt. Rex has "never hurt anyone he wasn't supposed to," Megan says. "Rex is my partner and I absolutely love him. We've been through so much together. I've spent day and night with this dog. It's a very strong bond."
Article continues below advertisement
While Rex's case is being evaluated, the dog is in a kennel at Camp Pendleton, California.
"I know he's getting taken out and being played with," Megan tells RadarOnline.com. "But a kennel isn't where he belongs.
"I just hope all the support and media coverage I'm getting will help bring him home."
RELATED STORIES:
DWTS Champ J. R. Martinez Invited To Visit The Pentagon