Kate Middleton Shows Off Her Stick-Thin Figure On The Hockey Field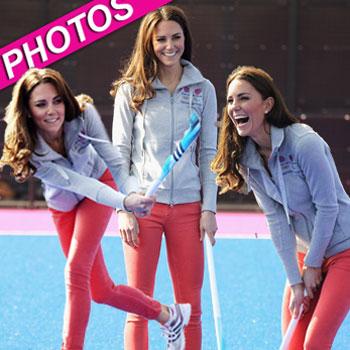 Article continues below advertisement
The future Queen of England looked super skinny as she darted around, trading her usual high heels for a pair of sensible sneakers.
"I used to play at school and I remember my muscles at the beginning of the season were agony," Kate told the team. "Do you still get bananas and oranges at half time? I don't know if that was purely a school thing? I was a striker so you had to get the timing exactly right, well that was the idea. I played on the left wing. I really enjoyed it and it is great to be here.
"I haven't played since I stopped so I am really nervous now."
The Duchess of Cambridge really stepped up to the plate though, and despite initially being nervous she soon got back into the swing of things.
"The last time I played was 2005, maybe. It feels like I haven't held a stick for ten years. This is going to be so embarrassing. My brain thinks I can do all these wonderful things but my body just doesn't play ball," she confessed.
Article continues below advertisement
When she finally hit the ball into the goal there was a huge applause from the crowd and she admitted that she wasn't going to give up until she had proved herself on the field.
"Wow, that was no pressure then," she quipped. "I was determined to keep on going until I scored!"
RELATED STORIES:
Not Fit For A Queen! Kate Middleton's Cousin Strips Off Raunchy Royal Outfit
Pretty Princess! Kate Middleton And Queen Elizabeth Work In Style