10 Celebrities Making Really Funny Faces!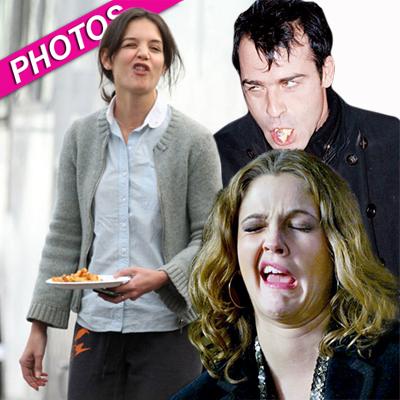 Even Hollywood's hottest stars make funny faces!
We are used to seeing them perfectly poised and hamming it up for the cameras, but even celebrities get caught off guard and are snapped looking less than perfect.
RadarOnline.com has photos of your favorite actors and reality stars making the funniest faces imaginable.
Katie Holmes is usually so serious, so it's nice to know that even Mrs. Tom Cruise has an off moment sometimes in front of the flash bulbs.
Article continues below advertisement
Jennifer Aniston's boyfriend and Wanderlust costar Justin Theroux is a Hollywood hunk who usually looks sleek and sophisticated, so we barelyrecognized him chowing on a hotdog while rolling his eyes.
Mel Gibson and Charlie Sheen are known for their wild antics, so it isn't too surprising that the leading men have been snapped looking shockingly bizarre.
What do Anne Hathaway and Snooki have in common? Very little, except we have photos of both of the brunettes not looking their red carpet best.
What other celebs have been snapped making really funny faces? Find out by clicking here.