Real Life Adult Baby Wears Diapers In Shocking My Crazy Obsession: Sneak Peek!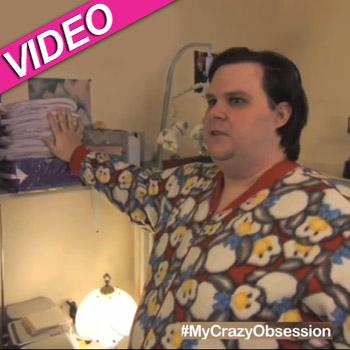 By Alexis Tereszcuk - Radar Senior Reporter
He might be 31 but he's not growing up anytime soon!
Meet Stanley -- an "adult baby" who is featured on the upcoming episode of TLC's My Crazy Obsession, and in a sneak peek, obtained by RadarOnline.com, he reveals the disturbing details about his obsession – he wears diapers.
For the last 18 years Stanley has been obsessed with being an adult baby, complete with footie pajamas, a pacifier, sleeping in a crib and wearing diapers.
Article continues below advertisement
"When I was 13 I started having bed wetting problems. I started wearing diapers and that's when it started for me," Stanley says about his obsession.
Even though he's fully toilet trained, Stanley permanently wears diapers and always keeps a stash next to the crib he sleeps in.
"They can go up to between 8 and 10 hours without needing a change," he says, but admits he's had "accidents."
"There are times when you move around and all of a sudden there's fluff falling out," he says.
Stanley justifies his odd obsession, saying "When I'm wearing a diaper it's a constant hug from mom."
Check out My Crazy Obsession Wednesday, March 21 at 10/9c on TLC.
In the meantime, catch a sneak peek of Stanley's obsession below:
RELATED STORIES:
Move Over Duggars, There's A New Family With 19 Kids In Town! Meet The Bates
Amy Duggar And Mentor Shrug Off Extortion Plot With On Stage Performance
Duggar Family Extortion: The 'Incriminating' Photos Revealed
Honey Boo Boo Child: 'My Mom Is A Hoarder!'Honey Boo Boo Child: 'My Mom Is A Hoarder!'