Exclusive
Whitney Houston Didn't Crash Brandy Interview; Disheveled Appearance Explained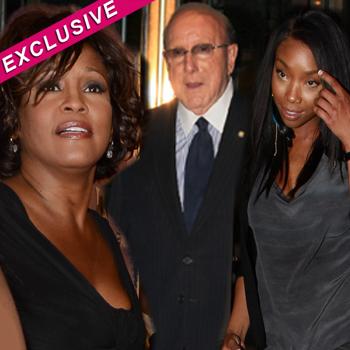 By Jen Heger - Radar Legal Editor
Some of the last known video footage of Whitney Houston was taken last Thursday, when it was alleged that the "disheveled" late pop singer "crashed" an interview that Clive Davis was doing with Brandy and Monica, but RadarOnline.com has exclusively learned the true facts of what happened, along with details that shed new light into the final days of her life.
Houston passed away on Saturday afternoon after she was found unconscious and unresponsive in her bathtub at the Beverly Hilton. The award winning singer was declared dead by paramedics at the iconic hotel at 3:55 p.m. PST. She was 48.
Article continues below advertisement
E! cameras had just finished an interview with Davis, Brandy and Monica, who were promoting their performance at the music mogul's pre-Grammy party. Contrary to reports that Whitney rudely interupted the interview, RadarOnline.com's eyewitness tells us that is categorically false.
"Whitney waited until E! had finished filming to say hello. Clive, Brandy and Monica were doing interviews with multiple media outlets to promote their performance at the pre-Grammy party," the source says. "The interview was finished, and the E! crew was off to the side taking their equipment down, and the trio was awaiting the next outlet to come in and set up. As soon as the E! crew saw Whitney enter the room, they started rolling their cameras. Whitney came over, and said hello to all three. She was completely sober, coherent, and absolutely respectful. She just wanted to wish Brandy and Monica good luck."
As for Whitney's "disheveled" appearance? There's a simple explanation for that: "Whitney had just gotten out of the pool. She had been doing laps daily for exercise. She had been in the pool with Bobbi Kristina and when she got out, someone told her that Clive was upstairs with Monica and Brandy. She still had her bathing suit on underneath the cover-up that she was captured on camera wearing," the insider says.
Article continues below advertisement
During the brief exchange, Whitney tells her daughter to say hello to Davis, who is her godfather, and she gives him a kiss, and as quickly as the mother daughter duo entered the room, they left.
"Whitney wasn't dancing around the room, or doing anything bizarre at that time. This was in the middle of the day on Thursday. At that time, she appeared to be completely sober. Whitney was absolutely professional during that brief appearance in the room. However, it was widely known that Whitney had fallen off the wagon and was abusing prescription pills again," the source says.
In the end, neither Brandy nor Monica performed at Davis' pre-Grammy party on Saturday night.
The funeral for Whitney is scheduled to take place on Saturday in Newark, New Jersey.
RELATED STORIES:
Clive Davis Will Attend Whitney's Funeral Despite Grammy Party Tension
Bobby Brown To Attend Whitney Houston's Memorial; Says Bobbi Kristina 'Doing Much Better'
Officials Subpoena Whitney Houston's Medical Records & Prescriptions
Whitney Houston's Mother, Cousin Dionne Warwick Leave NJ Funeral Home