Stephen Hawking Swaps Sex Club For Science Museum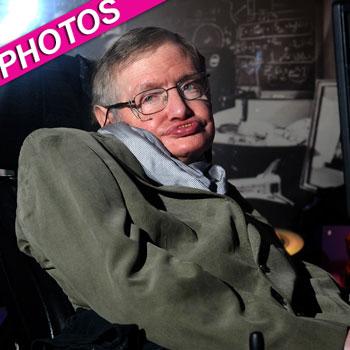 Professor Stephen Hawking took time out from visiting sex clubs to do something a little more scientific as he celebrated a new museum exhibition dedicated to his life and work.
The renowned physicist and cosmologist - who is almost totally paralyzed due to a nearly 50-year battle with a motor neurone disorder similar to Lou Gehrig's Disease - posed with fans at the Science Museum in London where he is being honored for his life and work.
Article continues below advertisement
The scientist has recorded a personal voice-over that credits the museum for "introducing young people to the wonder and excitement of scientific discovery."
The impressive exhibit comes just weeks after he celebrated his 70th birthday on January 8.
However his decades of excellence have recently been overshadowed after RadarOnline.com uncovered his secret personal life.
Despite being unable to move Hawking reportedly frequents Devore sex club in California where he shows up with a bevy of nurses and assistants and has naked women grind on him.
"I have seen Stephen Hawking at the club more than a handful of times," said a source who has been a member of the Freedom Acres swingers club for nearly half a decade.
"Last time I saw him he was in the back 'play area' laying on a bed fully clothed with two naked women gyrating all over him.
The source added: "Stephen is by far the last person I ever expected to see in this club."
RELATED STORIES:
John Edwards Mistress Rielle Hunter Settles Sex Tape Lawsuit