Body Of Missing Fireman Found In Maine Woods, Suspect Arrested For 'Drug-Related Killing'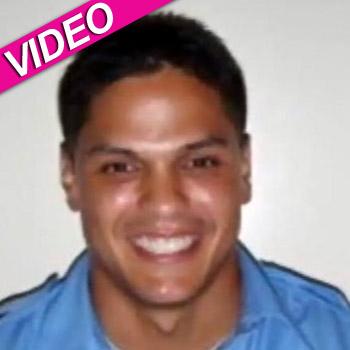 By Debbie Emery - RadarOnline.com Reporter
Police have found the body of missing Florida fireman Jerry Perdomo in a rural wood in Monroe, Maine, a day after the man who was arrested for his murder told authorities that the husband and father of two is dead.
Daniel Porter, 24, was arrested on Tuesday at the Jackson, Maine, home that was rented by his father, Gary, who the suspect reportedly told where he could find the knife and gun used in the deadly crime, according to WCSH6.com. During a search of the house, police made the grisly discovery of a piece of skull and blood that is consistent with Perdomo's.
Article continues below advertisement
DOCUMENTS: Read The Court Affidavit For Daniel Porter's Arrest
In a court affidavit obtained by RadarOnline.com, Porter is described as 5'10" and 165 pounds, and states that he did "intentionally or knowingly cause the death" of 31-year-old Perdomo on February 16.
The report detailed the bizarre background to the murder that began with Porter and Perdomo playing pool at Gary Porter's house when the pair allegedly started arguing and Daniel shot the fireman.
After being portrayed as a wholesome family man to wife, Tonya, and their 3 and 10-year-old children, the affidavit reveals that Jerry had a 25-year-old mistress in Bangor named Lisa.
"I knew that he had a friend, but he has female friends. I can't comment on the extent of their relationship because I don't know," said Tonya, who acknowledged that her husband made the 1,600 mile trip from Florida to Maine to see another woman. "My understanding is that he was going to help someone. It would not have been unusual for him to go and help someone because that's what he always did."
Article continues below advertisement
The firefighter from Seminole County, Florida, was first reported missing by his mistress two weeks ago and Porter became a person of interest soon after posters were put up around the Bangor, Maine area by friends in the hope of triggering someone's memory.
Police are calling the homicide a "drug-related killing" as it is alleged that Porter and Perdomo dealt narcotics together.
It was not the first time they had gotten into a violent interaction as in January, Porter called police to report that Perdomo was throwing rocks at his windows. Both men threatened each other and Perdomo claimed Porter threatened him with a machine gun and said he'd throw his body in the wood chipper, according to the affidavit.
Porter is expected to be in court on Thursday at Waldo County Superior Court in Belfast.